Marking Stamps/Retainers are pre-packaged.
Press Release Summary: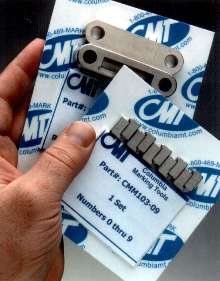 L-Shaped stamps feature flange on bottom that insures consistent stamp height by locating up against bottom slot of retainer stamp opening. They are .50 in. high, .31 in. wide for character sizes that are 5/32, 1/8, and 3/16 in. Any type of font can be produced on stamp. Retainers and backing plate sets range in size from 2-2.94 in. in length and from 1.31-2.25-in. wide. Metric sizes are also available.
---
Original Press Release:

Columbia Marking Tools Introduces New Standard Pre-Packaged Sets of Press Marking Stamps and Retainers for L-Shaped Stamps


New packaging permits easy identification, storage and protection for press marking stamps

In press working and stamping, it is vitally important to mark parts with part numbers, shift codes, date codes, machine ID, fixture ID or even operator ID. The most common method today is to use a steel stamp that is built right into the tooling of the die. These steel stamps are typically contained in a removable retainer with a backing plate that is bolted to the stamping die with socket head screws.

Recently, Columbia Marking Tools, Inc. in Mt. Clemens, MI has undertaken a new method of packaging these marking tools to make it easier for the user to identify the stamps and retainers and to store them properly and protect them from being lost or mixed up with old stamps. Phase I of the program involves L-shaped stamp designs. This type of stamp has a flange on the bottom of the stamp that insures consistent stamp height by locating up against the bottom slot of the retainer stamp opening. These L-shaped stamps are .50-inches high, .31 -inches wide, for character sizes that are 5/32, 1/8 and 3/16-inches. Any type of font can be produced on the stamp. In addition, Columbia can engrave any marking legend on custom die segments to be used in a stamping press or retainer system.

Four different retainer and backing plate sets are available in single and double slot opening designs to accommodate a wide range of desired identification. The number of individual L-shaped stamps that will fit in each opening varies. Retainers and backing plate sets range in size from 2-inches to 2.94 inches in length and from 1.31 to 2.25-inches wide.
Metric sizes are also available. Pre-packaged stamps and retainer sets are maintained in stock and come with a convenient order form. Discounts are available when complete sets are purchased. Complete specifications and dimensions for these retainer sets and stamps are easily accessible on the Columbia Marking Tools web site, www.columbiamt.com.

Columbia Marking Tools is a leading designer and manufacturer of metal and plastic marking equipment including stamps, roll marking dies, roll marking and impact marking machines, numbering heads and special marking machines.

Send all written inquiries to:
Sales and Marketing Department
Columbia Marking Tools,
42600 Executive Drive
Harrison Township, MI 48045
Telephone (800) 469-MARK;
FAX (586) 469-3120
Email: sales@columbiamt.com

More from Chemicals & Gases