Marketair Wins Gold and Bronze HVAC/R Product Design Awards for LinePort and SnapFix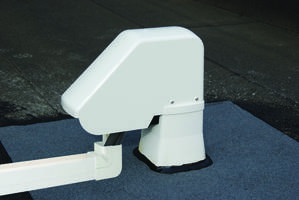 LinePort is plastic hooded pipe inlet rooftop ports and the SnapFix mini-split condenser mounting fastener win HVAC/R industry Dealer Design Awards.
Marketair, Edison, N.J., a leading provider of HVAC/R installation and service accessories/tools, won two product design awards on July 24 in the 14th annual Dealer Design Awards (DDA) program sponsored by the weekly trade magazine Air Conditioning, Heating and Refrigeration News (ACHR News).
Marketair's LinePort, plastic hooded pipe inlet ports for weatherproof rooftop penetrations and the SnapFix mini-split condenser mounting bracket fastener competed against 79 product design entries that were judged by an independent panel of contractors and won Gold and Bronze awards, respectively, in the "Components & Accessories" category.
The two-piece LinePort is easily installed in less than 30 minutes and it weatherproofs roof penetrations for HVAC/R linesets, condensate, plumbing and electrical piping installations on commercial and residential buildings. Two sizes fit up to six linesets, depending on pipe diameters. The precision-molded, UV-resistant, durable white ASA-plastic gooseneck designs are an aesthetic, labor-saving and less costly alternative to fabricated galvanized metal piping ports on flat or pitched roofs.
The other award winner, SnapFix consists of a package of four spring-loaded, non-corroding glass fiber fasteners for securing mini-split condensers onto any metal mounting bracket configuration. The fasteners, which hand-tighten into the condenser bracket's bolt slots, include a polyurethane vibration dampener to reduce mechanical noise/vibration transfer to the building.
"These awards give us a unique opportunity to recognize the outstanding research and development efforts that go into many of the products serving the HVAC/R industry," said Mike Murphy, publisher, ACHR News, which is distributed nationally to more than 33,000 members of the HVAC/R industry.
About Marketair: Originally founded by President Gerry Spanger as a manufacturer's representative company in 1986, Marketair has now reinvented itself as an importer, exporter, manufacturer and distributor specializing in components and accessories for the HVAC industry. Headquartered in Edison, N.J., Marketair has acquired several innovative new products for commercial and residential HVAC applications, covering both the ducted and minisplit (ductless) sectors. Marketair operates as a national distributor for smaller independent U.S. manufacturers. The company has established a national network of manufacturer's representatives through which these products are sold in the HVAC/R industry wholesale distributors. It has aRDo established a centrally-located warehouse for shipping products throughout the U.S.
Contact:
Gerry Spanger
Marketair Inc.
(732) 985-8226
More from Fluid & Gas Flow Equipment