Marine Satellite TV Antennas operate in all global markets.
Press Release Summary: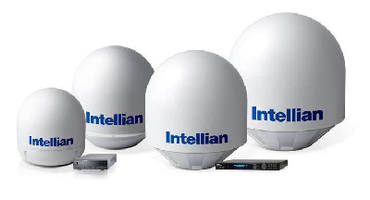 Featuring Intellian multi-band WorldView low noise block module, W-Series includes two commercial 3-axis stabilized satellite TV antennas, t110W and t130W, and two recreational 2-axis models, i6W and i9W. LNB module receives both circular polarized signals used in America and linear polarized signals that are standard elsewhere. In addition, antennas include Intellian's Wide Angle Search algorithm for fast signal acquisition, and Dynamic Beam Tilting signal locking technology.
---
Original Press Release:

Intellian Announces World's Only Satellite TV Antenna Capable of Operating in All Global Markets



Technology Leader's W-Series Features New Intellian WorldView LNB for Complete International Signal Reception

Irvine, Calif. - Intellian, the world's technological leader in marine satellite antennas, announced today the first marine satellite TV antenna compatible with programming signals in all world markets, the w-series. Designed completely in house, the w-series features the Intellian exclusive multi-band WorldView Low Noise Block (LNB) Module. The new line consists of two commercial 3-axis stabilized satellite TV antenna models, the t110W and t130W, and two recreational 2-axis models, the i6W and i9W. W-series systems are the only antenna solutions capable of receiving all types of satellite TV signals in all markets around the globe. With the installation of a single i6W, i9W, t110W or t130W system, recreational and commercial boaters achieve a new level of satellite TV convenience, as well as unparalleled access to the greatest number of channels at sea.

The Intellian w-series marine satellite antenna systems' WorldView LNB Module receives both circular polarized signals used in the Americas and linear polarized signals that are standard throughout the rest of the world. Offering the high-quality access to satellite TV services that is synonymous with Intellian, boaters are no longer required to undertake the painstaking hassle of purchasing multiple LNB's , reconfiguring complex systems and manually changing the LNB unit inside the antenna dome each time the vessel crosses into a different satellite service region. The w-series' WorldView LNB Module allows mariners to seamlessly switch between circular DIRECTV®, DISH Network®, ExpressVu and Sky Canada services in North America; DIRECTV Latin, Sky Brazil and Sky Mexico programming in Central and South America; and linear polarized services using Universal Quad LNB in Europe, Africa and the Middle East, as well as Asia and the Pacific - all by simply pressing a remote control button.

"The w-series marine satellite antenna systems were developed by Intellian engineers and truly demonstrates our commitment to being the technological leader in the marine satellite antenna market," said Eric Sung, president and CEO of Intellian. "Designed to address the needs of commercial and recreational ocean-going vessels traveling across different satellite TV services markets around the world, the heart of our new antennas is our exclusive, innovative WorldView LNB Module which provides satellite signal access and capabilities previously unavailable. We are confident boaters will quickly recognize how the w-series improves the convenience and quality of satellite entertainment at sea."

W-series marine satellite TV antennas feature Intellian's patented WRS (Wide Angle Search) algorithm for fast signal acquisition and pioneering DBT (Dynamic Beam Tilting) signal locking technology. The revolutionary WorldView LNB Module operates on four frequency bands, two circular polarized frequencies for access to all programming in the Americas and two for linear polarized Universal Quad LNB signal programming found in markets outside the Americas. Designed to excel in all sea states and weather conditions, all Intellian systems are tested to industry-leading standards for vibration and resonance frequency, as well as extreme shock. FCC and CE approved, the new w-series antennas are waterproof rated to the IPx6 standard, and protected by a 2-year parts and 1-year labor limited warranty.

Price & Availability:

The Intellian w-series i6W, i9W, t110W and t130W satellite TV antenna systems have a suggested retail price of US $9,495, $14,995, $21,995 and $24,995, respectively. The
w-series will be available in December 2009 and can be purchased from authorized Intellian dealers and distributors throughout the Americas. For more information on the Intellian w-series satellite TV antenna systems, the Intellian WorldView LNB Module, Intellian and its entire product line, compatible satellite services around the world, or international pricing and distribution, please visit intelliantech.com or call (949) 916-4411.

About Intellian, Inc.:

Intellian is the world's technological leader in manufacturing a wide range of mobile satellite communication systems. Intellian has established its name with its self-contained satellite antenna technologies, which provides access to high-quality satellite antenna systems in the open sea, even in the roughest weather conditions. Intellian will continue to maintain the highest level of standards and introduce a variety of innovative satellite antenna system for all industries. For more information about Intellian call (949) 916-4411 or visit intelliantech.com.

More from Machinery & Machining Tools