Marine-Grade HPS Light (1,000 W) features remote ballast.
Press Release Summary: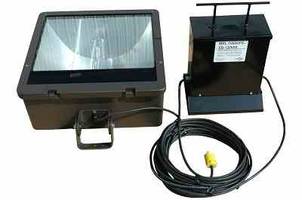 Rated to 1,000 W and measuring 26 x 22 x 11 in., MRL-1000HPS-EB saltwater-certified high pressure sodium (HPS) light produces 130,000 lm output capable of penetrating fog, dust, and other airborne obstructions. Up to 70 ft of STOOW cord connects light and remote, multi-tap ballast, allowing HPS light fixture to be mounted in areas of vibration, wind, etc. Applicable to wet area and dry areas alike, marine-grade solution features critical components secured in separate NEMA enclosure.
---
Original Press Release:
Magnalight offers Marine Grade 1000 Watt High Pressure Sodium Light with Remote Ballast
Larson Electronics' magnalight.com offers a 1000 watt high pressure sodium light with remote ballast for wet area and marine grade applications. Larson Electronics' magnalight.com announced the addition of the MRL-1000HPS-EB www.magnalight.com/p-46759-1000-watt-high-pressure-sodium-light-with-external-ballast--110000-lumen.aspx [1000 watt high pressure sodium (HPS) light with remote ballast]. Equipped with remote ballast, this HPS saltwater certified light is much lighter than traditional high wattage fixtures. This high pressure sodium marine grade light is also easier to maintain as well, since the most critical components are secured in a separate NEMA enclosure. Measuring 26 inches tall, 22 inches wide and 11 inches deep, the large fixture produces 130,000 lumens of high pressure sodium light, which is effective at penetrating fog, dust and other airborne obstructions. A special hard coating and simple trunnion mount makes this light applicable to wet area and dry areas alike. 70 foot of STOOW cord connects the light and the multi-tap ballast, enabling operators to position the NEMA enclosure for convenience security. By moving the weighty ballast to a separate NEMA enclosure, operators can safely mount the HPS light fixture in areas of vibration, wind, etc. without the concerns associated with a having a 50 pound ballast in the fixture. "This is a powerful, lightweight alternative to typical high pressure sodium lights," said Rob Bresnahan with Larson Electronics' magnalight.com. "The fixture is rated for wet area and saltwater use, and high pressure sodium is ideal for navigating in high fog conditions. With the ballast removed and secure externally, it easier to mount, as vibration, wind, etc aren't going to be as much of a factor when you are dealing with a lighter weight fixture. Basically, you are looking at a two foot square fixture delivering 130,000 lumens of light. High pressure sodium lights are ideal for cutting through fog, moist air, dust, smoke and other types of airborne particles that will often cause a lot of reflectance from other light sources, including metal halide. The multi-tap ballast can be configured for voltages ranging from 120 volts to 277 volts." Rob continued, "The MRL-1000HPS-EB high pressure sodium light is the latest addition to a wide range of wet area, marine grade lighting, which includes our high powered www.magnalight.com/c-140-led-lights.aspx [LED lights], remote control HID spotlights and halogen remote control lighting. Our newest LED light, the LED10W-28, for example, is an IP67 rated LED light that produces 25,000 lumens with a very low profile and wide area coverage. Our GL-3067H is a 3200 lumen HID spotlight with motorized, wireless remote controls. The RCL360-HID-RF is an industrial grade www.magnalight.com/p-46415-wireless-remote-controlled-hid-light-3200-lumens-with-magnetic-base--boating-light-.aspx [HID version of a remote controlled HID spotlight]. The WAL-TSM-1XM is a 1000 watt metal halide searchlight. As customers bring us more custom requirements, we continue to develop and productize solutions for the marine marketplace, for both large and small boats," Rob concluded. Larson Electronics' magnalight.com has an extensive range or marine grade boat lighting. Ranging from IP67 rated LED lights to LED courtesy and rail lights, magnalight.com is a one stop shop for boat lights of all kinds. You can learn more about Larson Electronics at magnalight.com or call 1-800-369-6671 (1-214-616-6180 international).
More from Electrical Equipment & Systems