Manufacturing Meets it's Match: Functionality from Fedtech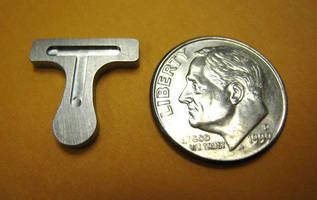 Top notch parts are laser cut, deburred, milled, and more for a custom application assembly that is out of this world.

Saint Paul, MINN. - November 9, 2009 - An interesting project was recently completed at Fedtech Inc., a specialized job shop located in St. Paul, Minnesota. These miniscule, 14 gage (0.0781" thick) parts were laser cut from 316 stainless steel sheets. After recently adding a new Bystronic Byspeed 3015 laser to their production floor, they had no reservation about being able to finish the project efficiently.

The two mating parts were laser cut and then deburred, milled and tumbled at Fedtech for clean edges and a smooth finish. Over 3,000 of these tiny parts are custom manufactured each year for a company located in Boulder, Colorado. The company is a specialized engineering firm, and a subsidiary of Emerson Process Management.

When the parts reach their final destination, Emerson then welds the T-shape onto identically shaped extrusions to serve as an end cap. The final product is the Rosemount 485 Annubar® Flowmeter which measures flow and pressure in pipe lines.

This diverse product has the capability to measure multiple fluids, gases and/or vapors that flow through it, and is used in many different applications. "It ranges from oil, steam, water, air, even natural gas," says Emily Vinella, the Marketing Engineer for Emerson. The Rosemount 485 Annubar® Flowmeter is an impressive piece of equipment and a growing measurement solution for many emerging markets.


More from Electrical Equipment & Systems