Manufacturer Finds Education Sector Uses for Giant, Energy-Efficient Fan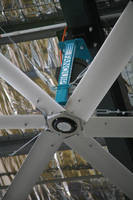 Australian air movement specialist Fanquip is finding acceptance in the education sector of its energy-efficient Giant fan.



Its most recent installation, at one of the Queensland campuses of Agnew School, gives the students a sensible solution that sees an energy efficient industrial product maintain a comfortable temperature in the school gymnasium.



Fanquip's Giant is manufactured as an under-roof fan designed to keep people cool and comfortable during the spring and summer months and overcome heat loss from stratification in winter.



The Giant can be customised to diameters as small as 2.5 metres up to 8 metres.  It is quiet during operation and returns excellent cost-efficiency in energy consumption.



The two installed inside the gymnasium at Agnew School's Brisbane Campus each have 5 metre diameters and obviate the need for costly and energy sapping air conditioning systems.



The Giant has an aerofoil blade system that blows a gentle, cool breeze over a very wide footprint. For example, a five metre diameter system would easily cover a 25m x 25m area.



Operating on maximum revolutions that nominally do not exceed 60 per minute, the Giant provides a nice cooling effect during hot months of spring and summer.



It utilises high-volume fan design at very low speed to provide a balance between air velocity and volume, therefore optimising the cooling effect of air sweeping across moist skin.



Compared to air conditioning, Fanquip considers The Giant a much more appropriate way to rapidly cool the human body.



Air movement is a more natural way of cooling the human body as it does not impose a sudden temperature drop, as is the case with the transition to an air-conditioned room.



Designed and built in Australia by Fanquip, the technology is low maintenance and very easy to install.



When used in the workplace, the level of personnel comfort it provides equates to significant increases in employee productivity.



An additional feature of the technology is that it can operate on reverse cycle. For times when stale or hot air needs to removed instantly (such as when a plant opens first thing in the morning), the reverse cycle function expunges it.



The Giant is also a cost saver and ecologically practical as it is powered by one of Fanquip's MEPS motors, which uses astoundingly low levels of power to operate.



Combined with the massive volume of air movement it provides excellent cost-effectiveness in air quality enhancement.



Agnew School is a registered and accredited independent school, which operates multiple campuses. With one central administration the campuses work in close cooperation, sharing expertise, professional learning opportunities and resources.



Agnew School Campus locations are in Brisbane, Bundaberg, Maryborough, Nambour, Toowoomba, Warwick



For more information, please contact, Fanquip. 1800 224 308.



More from Mounting & Attaching Products