Manual Rivet Tool Kit handles most common repairs.
Press Release Summary: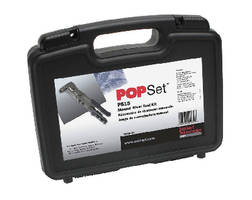 Professional-grade 265-piece POPSet® PS15 includes PS15 plier style hand tool with rivet retention feature, allowing tool to be used one-handed and in any position without rivet disengaging from nosepiece prior to setting. Tool sets aluminum rivets up to 3/16 in. and steel rivets up to 5/32 in. body diameter. Kit also contains 8 different rivet varieties in multiple sizes and materials, back-up plates, and nosepieces for 3/32, 1/8, 5/32, and 3/16 in. rivets.
---
Original Press Release:

POPSet® PS15 KIT



Emhart Teknologies

PS15-KIT

Professional Manual Rivet Tool Kit

March 4, 2009

Contact Cindy Blish 203-944-1706

cindy.blish@bdk.com

New POPSet® PS15 Rivet Tool Kit showcases Emhart's new Professional hand tool and a selection of the always reliable POP® Brand rivets to handle the most common repairs

From the inventor of POP® brand rivets, this 265 piece Manual Rivet Tool Kit is the ideal solution for your professional and general use including auto body repair, automotive and garage applications, industrial MRO and home operation needs.

Emhart announces the latest addition to their new POPSet® line of manual tools. Today, Emhart offers a multipurpose kit containing the POPSet® PS15 Professional Rivet Tool and an assortment of POP® brand rivets.

The PS15 is a plier style hand tool which has been ergonomically designed to fit your hand with contoured grips for comfort. The tool is designed with a rivet retention feature allowing you to use the tool not only one-handed but in any position with the assurance that the rivet will not disengage from the nosepiece prior to setting.

The PS15-Kit contains the most widely used assortment of 8 different rivet varieties in multiple sizes and materials as well as back-up plates (washers) to aid in application.

All POPSet® Rivet Hand Tools have been designed to offer the best-in-class features available on the market today. These tools offer the quality, durability and reliability that is expected from genuine POP® Rivet Tools.

Features & Benefits:

Lightweight

Professional grade

Sets Aluminum rivets up to 3/16" (4.8 mm) and Steel up to 5/32" (4.0mm) body diameter

Supplied with nosepieces for 3/32", 1/8", 5/32" & 3/16" (2.4mm, 3.2mm, 4.0mm & 4.8mm) rivets

Supplied with nosepiece wrench

Length: 9.65 in. (245mm)

Weight: 1.3 lb (0.6kg)

More from Waste Management & Waste Handling Equipment