Manual Pulse Generator features user-accessible DIP switch.
Press Release Summary: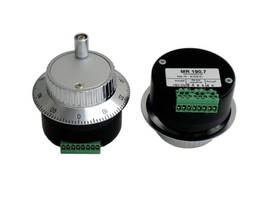 MR190 Universal Manual Pulse Generator/Handwheel (MPG) offers both A/A'/B/B' differential line driver and A/B pull-up quadrature outputs in single unit. It provides 100 detent positions per revolution and outputs one A/B quadrature pulse cycle per detent, while DIP switch configures both +5 or +12 V DC power supply options and A/B pull-up interface options. Features include COMBICON screw-down wiring plug and pin header system, metal housing, metal knob, and IP50 rating.
---
Original Press Release:

Micronor Introduces World's First Universal MPG/Handwheel for Teach Pendants and Other Motion Control Applications



Newbury Park, California, November 24, 2008 - Micronor's MR190 Universal Manual Pulse Generator/Handwheel (MPG) is the world's first MPG to offer both A/A'/B/B' differential line driver and A/B pull-up quadrature outputs in a single unit. No longer does a CNC machine manufacturer, control panel fabricator, distributor or service center need to stock 3 or more handwheel models because of the non-standardized interface requirements of different manufacturers and models of CNC systems, PLCs and teach pendants.

An MPG is a common accessory found on CNC machine tools. It is a manually controlled rotary handwheel that the machine operator uses to move a tool incrementally along an axis. The MR190 provides 100 detent positions per revolution and outputs one A/B quadrature pulse cycle per detent or "click". The quadrature outputs tell the machine both the number of incremental steps to move and direction. The MR190's intuitive operation, tactile feedback and ease of interface is ideal for use in all types of teach pendants, control panels, motor drives, position control systems and electronic instrumentation.

MR190's universal nature comes from the user-accessible DIP switch used to configure both power supply options (+5V or +12VDC) and A/B pull-up interface options (either Standard 2K ohm or FANUC-type 330 ohm pull-up resistors) It is also the first handwheel offering a modern, efficient industrial connection scheme - based on the proven Phoenix Contact COMBICON screw-down wiring plug and pin header system. The heavy duty unit incorporates a metal housing, metal knob and rated IP50 (dust protected).

End User LIST Price is $199 with OEM volume discounts available. Small quantities are available from stock. Lead time for larger quantities is typically 3-4 weeks ARO. Micronor also offers a broad range of handheld teach pendants which incorporate the MR190 universal handwheel.

About Micronor

Since 1968, Micronor continues to be a world-class supplier of advanced sensors and controls for a wide range of motion control applications. Products include fiber optic and optical rotary encoders, resolvers, rotary limit switches, feedback transducers, cam timers, motorized potentiometers, pulse generators and ergonomic pendant stations. Our rugged and reliable products serve industrial automation and process control industries as well as military, aerospace and other harsh/hazardous environment applications. Micronor has regional engineering and manufacturing facilities in both the United States and Europe.

CONTACT INFORMATION:
Dennis Horwitz
Vice President, Sales & Marketing
Micronor Inc.
3483 Old Conejo Road, Suite 203
Newbury Park, CA 91320 USA
TEL: (805) 499-0114
FAX: (805) 499-6585
EMAIL: dennis.horwitz@micronor.com
http://www.micronor.com

More from Computer Hardware & Peripherals