Manipulating Arm has variable speed control.
Press Release Summary: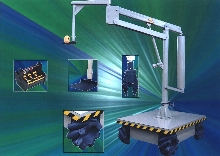 Six-axis Mini-Articularm, mounted on top of omni-directional platform, suits lifting and handling operations. Controlled via corded push button remote controls, joysticks, or wireless radio frequency controllers, system is capable of handling 100 to 250 lbs at 72 in. radius. Parallelogram arm allows load to remain parallel to ground while being raised or lowered. It also rotates 360 deg, and is manually operated (powered rotation also available).
---
Original Press Release:
New Mini-Articularm With Omnidirectional Mobility

Air Technical Industries of Mentor, Ohio and OMNICS International Corp. jointly announce the development of a new product consisting of the six-axis Mini-Articularm built by Air Technical mounted on top of the omni-directional platform built by OMNICS.

This unique combination adds great versatility to the proprietary products of both companies to offer the user ultimate flexibility in the most unusual and challenging process of lifting, handling, positioning, transporting, assembling, stacking, loading and unloading operations. The unit will also be ideal for handling explosive, toxic or nuclear materials as well.

All the functions for mobility and articulation can be controlled via corded push button remote controls, joysticks or through a wireless radio frequency controller. These systems allow the operator to be a substantial distance away from a hazardous or inaccessible area.

The NEW highly versatile Mini-Articularm is the link between conventional handling equipment and expensive robotics systems. It gives the operator full manipulation capable of handling 100 pounds to 250 pounds at a 72" radius. This allows for conmplete dexterity without the physical effort of lifting, stretching and straining to protect the operator from the danger of injuries.

The parallelogram arm allows the load to remain parallel to the ground while being raised or lowered. The unit also rotates 360-degrees and is manually operated; powered rotation is also available. The forearm attached to the parallelogram arm swings horizontally from twelve inches away from the mast out to a 72" radius making a 144" diameter circle. It can lift from ground level up to 72" high.

The vertical lifting arm provides 360-degrees wrist rotation that carries the end effector or tools needed for a particular job. The end effector can be equipped with three-axis articulation: pitch, roll and yaw. The end effector can be equipped with a variety of tools, grippers, shovels or scoops. All of the functions are hydraulically operated and battery powered. For industrial applications, it can be electrically powered via 110 volt AC or 220/440 volts 3 phase.

The mobility is provided by a very unique and unparalleled Omni-Directional Platform, which allows the unit to travel in any direction desired to provide maneuverability in a tight spot and precise positioning.

The omni-directional transporter has a variable speed control for smooth acceleration and deceleration, and can climb up to a 20-degree incline. With the portable joystick control, the operator can position the unit in any desired location. The omni-wheel clearly demonstrates superior mobility compared to any other undercarriage ever designed.

With the wide variety of attachments, six-axis manipulation and omni-directional mobility, the unit can be used for a great variety of applications such as:

* Automotive assembly
* Assembly of electronic panels
* Machine loading
* Glass & delicate parts handling
* Cargo handling
* Spot welding
* Luggage handling
* Drilling operations
* Military & Security industries
* Feed forging press
* Aircraft service
* Casting & core setting
* Packing & unpacking
* Machine assembly
* Lifting & dumping containers
* Feeding hoppers
* Handling explosives
* Handling toxic & nuclear materials

This equipment will increase productivity, save time, improve safety, eliminate fatigue and injuries, and yes, even save lives.
More from Transportation Industry Products