Mako Industries Delivers Solar Powered Soil Vapor Extraction System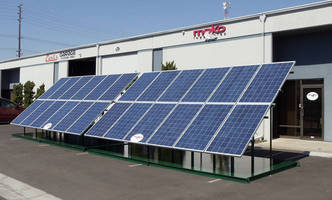 (Anaheim, CA) Mako Industries, a leading supplier of process equipment to the environmental industry, recently delivered its largest Solar Powered Vapor Extraction System to date. The system, designed to extract soil gas vapors from a series of wells in the ground, uses solar power for operation of a positive displacement vapor extraction pump, liquid transfer pump and related control equipment.

The system was delivered and installed at the Concord Naval Weapons Station located in Concord, CA at the direction of its customer, Shaw Infrastructure and Environment.

The system features the Mako Industries Solar Powered Off-Grid Electrical Generator paired with Mako Industries' low-flow, low-vacuum Soil Vapor Extraction System.

Mako Industries is a leading manufacturer of industrial quality, turnkey remediation systems for the environmental industry.

Mako Industries has earned a reputation for producing quality systems that are reliable and efficient. The company designs, creates, sells, rents and services all types of industrial remediation systems, from water treatment equipment to soil remediation systems. Additionally, Mako Industries has a large fleet of rental equipment available. It's Field Services Group includes a fully staffed team of service technicians available to industry.

For further information on Mako Industries, please contact Mako Industries at 714-632-1400 or visit its website at www.makoindustries.com.

More from Agricultural & Farming Products