Makita Hits Back Against Standard Fastening Bits with Impact X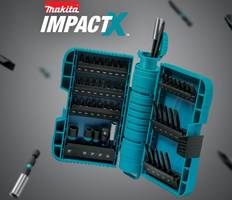 ImpactX, a new line of impact-rated insert bits and acessories, is engineered for full-contact impact driving and longer service life
La Mirada, CA Makita® has created a new line of insert bits and fastening accessories engineered for use with high-torque impact drivers. ImpactX™ is built for pro contractors, and effectively fills the gap between higher-priced premium torsion bits and standard bits.
ImpactX™ offers contractors a deep line-up of fastening accessories including insert bits and power bits, magnetic bit holders, magnetic nut drivers, and socket adapters. All are impact rated for longer service life and outstanding value.
"Contractors are frustrated with standard bits and fastening accessories that consistently break during use," said Steve Relaz, Makita product manager, accessories. "ImpactX™ takes the high quality materials, superior fitment, and extended life of premium torsion bits and brings it to the construction-grade category. ImpactX™ will compete toe-to-toe with higher-priced torsion bits in the next weight class up."
Makita conducted job site research which revealed that many pro contractors resist higher-priced premium bits, and instead purchase lower-priced insert bits in large quantities with the expectation that the bits will degrade over time. Makita created a new category that gives contractors the best of both worlds. ImpactX™ is not a torsion bit, but is built with high quality S2 modified steel that flexes slightly under load to take pressure off the bit tip. In addition, ImpactX™ tips are machined (not forged) for superior fitment. All ImpactX™ bits are subject to a calibrated heat-treatment process for added durability.
A Complete Fastening Accessory System
ImpactX™ is launching with 80 unique items and 180 total configurations, giving contractors a deep line-up of impact-rated fastening accessories:
Magnetic Bit Holders: ImpactX™ has 22 one-piece and two-piece magnetic bit holders. The two-piece design is engineered for maximum durability with less weight. Both the one-piece and two-piece have C-clips to retain 1" bits in the holder, and are magnetized for convenient pick-up of screws.
Insert Bits and Power Bits: ImpactX™ offers 110 Phillips, square, Torx, and slotted insert bits and power bits. The insert bits are for use with the Magnetic Bit Holders. The power bits allow the user to insert the bit directly into the impact driver or drill without the need for a bit holder for increased convenience. All bits feature precision machined tips for superior fitment, performance-optimized S2 steel construction for extended life, calibrated heat treating process for added durability, and manganese phosphate surface for advanced corrosion resistance.
Magnetic Nut Drivers: The launch line-up includes 30 different Magnetic Nut Drivers (1/4", 5/16", 3/8", 7/16"). Each feature performance-optimized S2 steel construction, with manganese phosphate surface for extended life. Each is subject to a calibrated heat treating process for added durability.
Socket Adapters: There are 15 ImpactX™ Socket Adapters (1/4", 3/8", 1/2"). Each has chamfered edges at the square drive end and retention ball for easy and secure fit.
Driver Bit Sets: Makita is offering contractors the convenience of 35-piece, 40-piece and 50-piece Driver Bit Sets. Each includes a range of ImpactX™ insert bits and fastening accessories. The hard case includes a Retention Loop and the Makita Xpand Storage System to hold up to 40 extra 1" insert bits.
Xtended Reach for Work in Tight Spaces
Fastening applications often take contractors into tight spaces, and Xtended Reach is a convenient solution. ImpactX™ offers Xtended Reach power bits, bit holders and socket adapters up to 12 inches long, and nut drivers up to 6 inches long. Each are constructed with the same performance-optimized S2 steel, and feature the same durability features for longer performance life. Xtended Reach bits are ideal for electrical, HVAC, plumbing and mechanical, and automotive applications.
About Makita®
Makita® is a worldwide manufacturer of industrial quality power tools and outdoor power equipment, and offers a wide range of industrial accessories. Makita utilizes leading-edge technology and innovation to engineer tools that are more compact with less weight yet deliver industrial power and results. Makita's extensive line of cordless lithium-ion tools includes 18V LXT® Brushless Lithium-Ion, 18V Compact Lithium-Ion, and 12V max Lithium-Ion. Other best-in-class products include rotary and demolition hammers and saws equipped with Anti-Vibration Technology (AVT®), MM4® 4-Stroke engine power equipment, Super Joint System - SJS® grinders, miter saws engineered with Deep and Exact Cutting Technology (DXT®), Impact GOLD®, the New Gold Standard in Impact Driving, and more. Makita U.S.A., Inc. is located in La Mirada, California, and operates an extensive distribution network located throughout the U.S. For more information, call 800/4-MAKITA (800/462-5482) or go to makitatools.com.
Makita USA, Inc.,
14930 Northam St.,
La Mirada, CA 90638
Media:
Wayne Hart
Communications Manager
Makita U.S.A.
(714) 522-8088 x 4410
Consumer:
(800) 4-MAKITA
More from Communication Systems & Equipment