Major Discounts on Bike Racks from Reliance Foundry Enables Property Owners to Stock Up for Spring Installations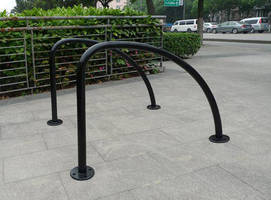 As the winter draws near, Reliance is offering large discounts on bike racks - giving opportunity for properties to plan ahead for spring outdoor upgrades.

Adding bike racks for outdoor bicycle parking is fast becoming a must-have for property owners and businesses. More people than ever use bikes for work, school and around-town transportation. It is a fact that businesses without secure bike parking are less frequented by cyclists.

As businesses enter the last quarter of the calendar year, using property improvement budget to obtain quality bike racks from Reliance Foundry is a wise investment. Reliance is offering large discounts on bike rack styles that are older, modified, discontinued or test-models. These styles are still as aesthetically pleasing as newer models and offer secure parking for cyclists.

Bike racks occupy minimum space, while providing users with many advantages:

- Bike racks provide secure storage that helps prevent bicycle theft.

- Several bicycle parking racks can be installed in close proximity, to save parking and storage space.

- Bike racks attract cycling customers to businesses, especially when competitors do not offer similar bike parking convenience.

- Decorative metal bike parking racks can help embellish storefronts or the surrounding landscape.

"The pricing on Reliance's discontinued product line makes it financially possible for companies who have been holding off on purchasing bike racks to obtain bike parking stands," said Reliance Vice-President, Brad Done. "Discounting these models enables Reliance to always offer the most popular and up-to-date lineup of bike parking products."

The many different styling and color options make it possible for businesses to match the style of their bike rack with the architecture or outdoor landscaping of the property. Most of the discounted models come in stainless steel options or as steel racks that have been powder-coated in your choice of colors. Even in the discontinued line, there are many styling options available - curved, triangular, angular and more. They add interest to the look of the property, yet are secure and functional.

Reliance has made it easy to stock up for property improvement, while providing greater value to customers and the community. If you do not see what you are looking for among the discounted sale bike racks, please browse the complete line of Reliance Foundry's bike rack products.


More from Controls & Controllers