Mainframe Systems use software-defined architecture.
Press Release Summary: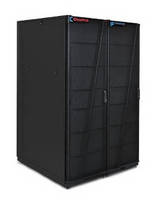 Powered by Intel® Xeon® Processor E5 2600 v2 technology, ClearPath Systems include Dorado systems based on ClearPath OS 2200 operating environment and Libra systems based on ClearPath MCP environment. Advanced fabric architecture uses Unisys s-Par secure partitioning technology, which creates secure container of dedicated resources for each application workload. Because fabric infrastructure uses software for processes traditionally performed by hardware, it avoids data-transfer bottlenecks.
---
Original Press Release:

Unisys Boosts Power and Flexibility for ClearPath Clients with New Models Using Advanced Fabric Architecture



12 new Intel-based systems use software-defined architecture to outperform proprietary predecessors



BLUE BELL, Pa., -- Unisys Corporation (NYSE: UIS) today announced 12 models of its flagship ClearPath systems using an advanced fabric architecture based on industry-standard Intel(®) Xeon(®) family processors. The new systems provide ClearPath clients with greater power and flexibility for their mission-critical applications in a modern and highly secure environment.



Continuing the ongoing evolution of the ClearPath family to an open architecture based on Intel x86 processors, the new models outperform predecessor ClearPath models based on CMOS (complementary metal oxide semiconductor) processors.



The software-based "fabric" architecture in the new models connects computing resources and components through high-speed interconnects, enabling organizations to create systems of exceptional scalability and power. The architecture, using Unisys secure partitioning (s-Par(®)) technology, provides a common platform for clients to securely run their ClearPath applications alongside Linux and Windows applications.



The following are the new additions to the Unisys ClearPath line:



--  Dorado systems. Based on the ClearPath OS 2200 operating environment, the new high-end 6380/6390, mid-range 4380/4390 and entry-level 4350/4370 models deliver up to four times the input/output performance of comparable CMOS-based predecessors while using 90 percent fewer I/O processors.*

--  Libra systems. Based on the ClearPath MCP operating environment, the high-end 8380/8390 and 6380/6390 and the mid-range 4380/4390 models top the computing performance of CMOS-based predecessors by up to 55 percent.



"With this latest advancement in the ClearPath family, Unisys continues to push the envelope in mission-critical computing," said Rob Cashman, vice president, Mission-Critical Servers and Solutions, Unisys. "We have laid the foundation for clients to build a software-defined data center that gives them far greater power, flexibility and security for their mission-critical applications at much lower cost while continuing to build on their long-term investments in ClearPath technology."



The new ClearPath systems take advantage of the computing power and I/O performance of Intel(®) Xeon(®) Processor E5 2600 v2 ("Ivy Bridge") processing technology, including the Intel(®) Data Direct I/O Technology and Advanced Programmable Interrupt Controller virtualization (APICv) features.



"Unisys has taken an impressive step with the new ClearPath fabric-based infrastructure," said Shannon Poulin, vice president, Data Center Group, Intel Corporation. "With the significant performance enhancements the new ClearPath models deliver, Unisys is clearly demonstrating the power of the Intel(®) Xeon(®) processor technology as a platform that brings new levels of power and flexibility to clients' mission-critical enterprise applications. We are confident that our ongoing collaboration with Unisys will lead to further breakthroughs in enterprise computing."



Fewer Hardware Components Make Performance Faster and More Predictable 

Because the fabric infrastructure uses software for processes traditionally performed by hardware, it avoids the data-transfer bottlenecks that can slow down performance in a conventional networked system and provides more secure, predictable application performance by allowing direct communication among OS 2200, MCP, Linux and Windows applications residing in different parts of the fabric.



The Unisys s-Par software technology manages workloads on the ClearPath systems, creating a secure "container" of dedicated resources for each application workload, eliminating resource contention and enabling faster, more predictable performance.



Each new ClearPath system features an OS 2200 or MCP environment, including computing and I/O controls, as well as specialty partitions that make it easier to modernize the application environment. An example is the ClearPath ePortal, which enables development of multi-tier, web and mobile applications. Each system also includes a Forward! by Unisys((TM)) platform, integrated through the fabric architecture, for Linux and Windows workloads.



As an extra measure of mission-critical security, clients can implement Unisys Stealth((TM)) on the new ClearPath models. The award-winning Unisys Stealth uses advanced data protection and encryption technologies to help organizations mitigate cybersecurity attacks and hacker incidents by rendering devices, data and end users undetectable on the network



Like all ClearPath systems, the new Dorado and Libra models provide options for purchasing computing power. Clients can choose a traditional performance-based system-software licensing model based on fixed costs or they can opt for a pay-for-use business model based on metering technology.



Basic configurations of the new ClearPath systems are priced as follows:



--  Dorado 6300 series from $2,000,000; 4380/90 from $665,000; and 4350/70 from $325,000;

--  Libra 8300 series from $5,600,000; 6300 series from $1,200,000; and 4300 series from $900,000.



The new ClearPath models are scheduled for availability June 30, 2014.



Note to Editors 

*All comparative performance information is based on performance testing conducted by Unisys using Unisys standard benchmark parameters.



About Unisys 

Unisys is a worldwide information technology company. We provide a portfolio of IT services, software, and technology that solves critical problems for clients. We specialize in helping clients secure their operations, increase the efficiency and utilization of their data centers, enhance support to their end users and constituents, and modernize their enterprise applications. To provide these services and solutions, we bring together offerings and capabilities in outsourcing services, systems integration and consulting services, infrastructure services, maintenance services, and high-end server technology. With approximately 23,000 employees, Unisys serves commercial organizations and government agencies throughout the world. For more information, visit www.unisys.com.



Follow Unisys on Twitter.



Unisys is a registered trademark of Unisys Corporation. Intel and the Intel logo Xeon are trademarks of Intel Corporation in the United States and other countries.  Any other brand or product referenced herein is acknowledged to be a trademark or registered trademark of its respective holders.



CONTACT: Brian Daly, Unisys, 215-986-2214, brian.daly@unisys.com

More from Electrical Equipment & Systems