Mailers offer tear, puncture, and moisture resistance.
Press Release Summary: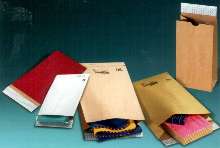 Tuff-Kraft® Mailers are recyclable and made from 50% post-consumer content. Self-Seal Natural Tuff-Kraft® mailers are offered in 2- and 3-dimensional options. Two-dimensional bag secures documents and soft goods, while 3-dimensional gusseted alternative is suitable for clothing, soft goods, durable articles, and non-breakable parts. SOS Self-Seal Tuff-Kraft® bags are stand-up bags made from 78 No. tan kraft paper with flat bottom for easy vertical filling.
---
Original Press Release:

Pactiv Launches Superior Performing, Tuff-Kraft® Mailer Line


Lake Forest, Ill. (July 3, 2003)- Pactiv Corporation (NYSE: PTV) is unveiling the latest version of its Tuff-Kraft® mailer line with new and repositioned product offerings under the Hefty® Express(TM) Tuff-Kraft® mailer and Hefty® Express(TM) Tuff-Kraft® BRIGHTS brands.

The four-item Tuff-Kraft® mailers line includes two new products:
o Self-Seal Natural Tuff-Kraft® mailers, and
o Stand-on-Shelf (SOS) Self-Seal Tuff-Kraft® bags

The natural Tuff-Kraft® mailers have been designed to outperform other kraft mailers in back seam, closure seal, tensile strength and tear-, puncture- and moisture-resistance. They are recyclable and are made from 50% post-consumer content.

Self-Seal Natural Tuff-Kraft® mailers are available in both two- and three-dimensional (gusseted) options. The two-dimensional bag secures documents and soft goods. The three-dimensional gusseted alternative is ideal for clothing, soft goods, durable articles and non-breakable parts.

Also new to the line are SOS Self-Seal Tuff-Kraft® bags. These are the first standup up, paper-based bags on the market with a self-seal closure. The bag's flat bottom enables easy vertical filling. Further, the bags are made from 78# tan kraft paper, which is heavier duty than standard 30-60# hardware bags.

Rounding out the line are Self-Seal White Tuff-Kraft® mailers and fiberglass reinforced Tuff-Kraft® mailers.

Also being launched for the first time is a second line-Hefty® Express(TM) Tuff- Kraft® BRIGHTS. This is the first industrial heavy strength mailer to offer a custom-color alternative. Ideal for use in promotional mailings, users can match their corporate
colors or a specific Pantone® color swatch for marketing appeal.

Because the Hefty® Express Tuff-Kraft® mailer alternatives feature superior construction, many companies now using more expensive air-cushioned mailers will now have a more cost-effective alternative without sacrificing performance. The peel and seal closure is longer lasting and stronger than competitive cohesive fold-over closures-and less susceptible to environmental conditions.

The line targets a broad cross section of applications including shipments of: arts/crafts, audio/video, auto/marine/aerospace/industrial/electrical parts, book put lishers, clothing and soft goods, industrial catalog operations, medical/pharmaceutical, office products, fulfillment operations, printers/copy centers and retailers.

Hefty® Express(TM) protective mailers feature tough construction and dependable performance. Each mailer in the Hefty® Express(TM) product line has been engineered to the highest standard so it delivers the strength, reliability and performance associated
with the Hefty® brand name. This complete mailer family offers an economical and secure method of guarding products from damage during shipment or transfer.

Pactiv Corporation (NYSE: PTV) is a leading producer of specialty packaging products with sales of $2.9 billion and operations in 14 countries. Pactiv is a market leader in growth sectors of the packaging industry: Consumer Products, with the Hefty® brand; Foodservice/Food Packaging; and Protective and Flexible Packaging. For more information about Pactiv, visit the company's web site at www.pactiv.com.

Please forward sales inquiries to:
Protective Marketing Dept., Pactiv Corporation
1900 West Field Court, Lake Forest, IL 60045
Phone: (847) 482-8812, Phone: (877) 692-6163 (toll free)
Fax: (847) 482-4529

More from Electronic Components & Devices