Mail Bench lets letters be opened safely.
Press Release Summary: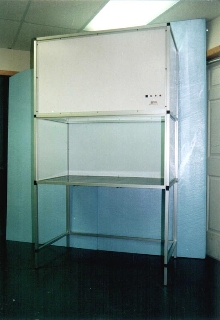 Mail Opening Air Flow Bench reduces risks from powders and other harmful airborne pathogens in mail and packages. It has 99.999999% filtering at submicrometer sizes due to its BIO PLUS® filter unit. Filtered air can be recirculated or exhausted. Bench's air stream carries away any fine powders dispersed in air from opening mail. Bench has fan speed control, light fixture, and electrical outlets.
---
Original Press Release:
Risk Reduction in Opening Mail

Technovation is offering a Mail Opening Air Flow Bench that significantly reduces risks (from powders and other harmful air borne pathogens) in the opening of mail and packages. Our flow benches have ultra high efficiency - (99.999999% at all sub micrometer sizes). The extremely highly filtered air can then be either re-circulated or exhausted from the room.

* The gloved operator opens mail in the bench with the front cover partially open.

* Optionally for higher risk reduction, the operator may use a suitable mask.

* The air stream entering the bench carries away any fine powders dispersed in the air due to opening the mail. This air stream is highly filtered (99.999999% efficient with sub micron particles) and then exhausted or re-circulated in the room. This high filtration efficiency is necessary for extremely low risk exhaust or re-circulation of extremely fine pathogens and viruses. Standard HEPA filters may not be safe enough for this application - for example a 99.99% HEPA will allow 100 particles per cubic feet of air to penetrate the filter, if there are one million particles per cubic feet in the air entering the filter.

* If there is suspicious material in the mail (detected visually or otherwise), it can be safely left on the bench table until a biohazard team arrives to analyze the material.

ADDITIONAL FEATURES
* The BIO PLUS® filter unit, which is the engine of this bench, was developed as an off shoot of work related to Nuclear, Biological and Chemical Warfare Protection systems, funded by the US Army under the SBIR program.

* All our models have 99.999999% sub micron efficiency. Our standard benches typically produce less than 10/L particles qreater than 0.005 micrometers (i.e. 5 nanometers) - qiving you ultimate filtration of airborne particulate matter.

* All these benches have fan speed control, a light fixture and electrical outlets.

* Note that these benches do not remove gaseous contamination or agents - only fine particulate matter including bacteria and viruses.

* The BIO PLUS® filter unit in these benches has been shown to be bactericidal based on laboratory studies with E.coli and staphylococcus epidermidis at Virginia Polytechnic Institute and at the University of Wisconsin. This feature inhibits the growth of bacteria on the BIO PLUS® filter. On the other hand, bacteria can grow on and through conventional filters and then start shedding the dangerous material in the room.

Based on independent laboratory testing using Escherichia coli and Staphylococcus epidermidis Technovation Systems, Inc.

More from Packaging Products & Equipment