Magnifying Lamp utilizes 80 LEDs.
Press Release Summary: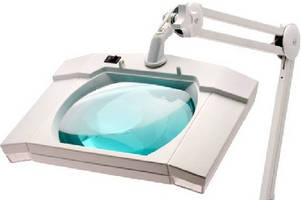 Using array of 40 lights on each side of 5-diopter glass lens measuring 7.5 x 6.2 in., Mighty Mag Magnifying Lamp provides hands-free illumination during assembly and inspection of electronics, small parts checks, and research/medical lab analysis. Lamp has 32 in. adjustable arm and LEDs rated at 20,000 hours and 1,000 lux intensity. Spring-balanced arm allows task-specific height and angle settings, while tension knobs hold lens firmly in any position.
---
Original Press Release:

80 LEDs Bring Power, Precision to Aven's Mighty Mag 5-Diopter Lamp



A powerful 80-LED lamp with magnifying lens now is available for added precision in engineering, assembly, laboratory and inspection applications.

The Mighty Mag Magnifying Lamp, introduced recently by Aven, Inc., uses an array of 40 strong lights on each side of a 5-diopter (2.25x) glass lens to deliver the highest level of LED task lighting available in an industrial-quality enlargement lamp.

Mighty Mag has an adjustable 32-inch arm and long-life LEDs rated at 20,000 hours and 1,000 lux intensity (luminance).

That level of brightness means less magnification is needed, allowing a bigger field of view and greater working distance under the lens. The 7.5-inch by 6.2-inch lens provides undistorted viewing over a large area.

"Users gain image clarity and consistent resolution without glare, hot spots or color distortion," says Aven president Mike Shahpurwala.

Mighty Mag is designed for hands-free illumination during assembly and inspection of circuit boards or other electronics, small parts checks, medical and research lab analysis, quality control reviews and other meticulous operations.

The lightweight, spring-balanced arm allows task-specific height and angle settings over a wide work zone for comfortable use while seated or standing. It features concealed springs, vibration resistance and tension knobs to hold the lens firmly in any position. An included table clamp allows workbench mounting.

"Being able to easily position the lens and lighting exactly where needed is an important time-saver, especially in high-volume lab and industrial settings," notes Shahpurwala. "This optical accessory also is handy for other precision tasks."

The enlarged field of vision can assist repair technicians, artists, jewelers, appraisers, curators, woodworkers, needle workers, fishing fly-tiers, rare book dealers or librarians, collectors of small objects and other hobbyists.

The white plastic housing provides a clean, contemporary appearance and easy cleaning. The lamp operates at 115 volts (AC) and has a one-year warranty.

For more information, call Aven at (734) 973-0099. A digital catalog is at www.aveninc.com.

Visit Aven at Booth 724 of Quality Expo at Chicago's McCormick Place North in Chicago from Sept. 20-22.

Aven, Inc. manufactures and distributes high-performance precision tools and optical systems for industrial, scientific, research and education applications. More than 750 products include video inspection systems, integrated portable microscopes, video borescopes, task lights, stainless steel tools for lab use and precision hand tools such as tweezers, pliers, cutters, screwdrivers, crimpers, knives and alignment tools. Brands include Mighty Scope, iLoupe, iVue, Accu-Cut, Athlet, Technik and Accu-Tek.
An electronics innovator since 1983, Aven is located in a high-tech corridor of Southeast Michigan and is the parent company of SharpVue, which designs and manufactures integrated digital microscope technology.

More from Materials