Magnifying Lamp from Aven Assures Sharp Close-ups for Precision Work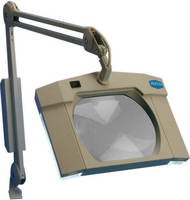 Adjustable, shadow-free workbench lighting with hands-free magnification is vital for detailed design, assembly and inspection work. An efficient solution with flexible features is available from Aven, Inc., which introduced the Mighty Mag Magnifying Lamp to provide portable task lighting for production personnel, engineers, lab technicians and other professionals.

The 3-diopter Crystal Clear lens delivers 1.75x magnification and a wide field of view through its 7-inch by 5.2 inch surface. Even, distortion-free light comes from both sides, assuring uniformly crisp views.

The ivory or black plastic housing, engineered to prevent electrostatic discharge, tilts upward or downward. An internal spring-balanced arm with a jointed neck extends up to 30 inches and sets in any position, letting the illuminated lens be positioned easily over wide-radius work areas for comfortable use while seated or standing. A mounting clamp attaches securely alongside work surfaces or to a floor stand.

A swing-away 5-diopter (2.25x) lens is available as a practical option for inspecting printed circuit boards or other precision materials. Aven Mighty Mag applications also include biotechnology research, health care lab work, forensics, industrial quality control checks, gemology and fine art authentication, restoration or appraisal.

The magnifying lamp has a five-foot power cord and one-year warranty.

For more information or a free catalog, call (734) 973-0099 or visit www.aveninc.com.

Aven, Inc. is an international source of high-performance precision tools and optical inspection systems for industrial, scientific, research and education applications. More than 750 products include alignment tools, video inspection systems, magnifiers, precision knives, "smart tweezers," pliers and cutters, illumination equipment and stainless steel hand tools.

An electronics innovator since 1983, Aven is located in a high-tech corridor of Southeast Michigan.


More from Sensors, Monitors & Transducers