Magnets suit heavy-duty manufacturing applications.
Press Release Summary: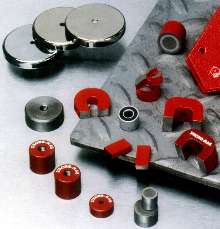 STRONG-MAG(TM) Magnetic Products eliminate manual clamping and perform tasks such as jigging, positioning, work holding, lifting, moving, and gripping. Permanent magnets are available in button, cylindrical, flat, round, rectangular, and horseshoe shapes in various sizes. Materials range from ceramic and alnico to neodymium iron boron and samarium cobalt. Tools include permanent magnet chucks, lifters, retrievers, grips, brushes, brooms, and sweeps.
---
Original Press Release:

Simonds Industries Inc. Launches New Line of Heavy-Duty Products for Industrial Applications


Fitchburg, MA (August 22, 2003) - Simonds Industries Inc., has introduced a new line of industrial products to increase productivity in heavy-duty shop floor and manufacturing applications. Included in this line are new STRONG-MAG(TM) Magnetic Products designed for a variety of uses including jigging, clamping, positioning, work holding, lifting, moving and gripping.

STRONG-MAG(TM) Magnets are easy to use and eliminate time-consuming, traditional manual clamping. These industrial permanent magnets are available in an extensive range of shapes including button, cylindrical, flat, round, rectangular and horseshoe and in a multitude of sizes to cover the most challenging applications, work piece shapes and environments. They are available in a variety of magnetic materials ranging from traditional ceramic and alnico to newer, more powerful neodymium iron boron and samarium cobalt materials.

The line of STRONG-MAG(TM) Magnetic Products is also complemented by an extensive array of permanent magnet chucks and an extensive selection of magnetic tools such as lifters, retrievers, grips and product material testers for testing and moving individual pieces on the shop floor. Magnetic brushes, brooms and sweeps designed to help clean up metals in maintenance applications are also available.

On production lines, STRONG-MAG(TM) Magnetic Products can also be used for filtering applications to remove ferrous particles from a variety of dry or wet materials. When placed upstream from automated systems, these magnets can also be used to fan items such as sheet metals to simplify feeding into forming and fabricating machines.

Despite their apparent simplicity, permanent magnets can be used for variety of applications and with a complex mix of metals. Simonds offers full technical support with a toll-free telephone line to discuss magnetic applications prior to specifying specific products. Product testing to determine proper holding or lifting capacities along with product service is also available. The tech support number is 1-800-343-1616.

Simonds Industries Inc., maintains a network of factories, warehouses and distribution centers throughout the United States, Canada, Germany and the United Kingdom to facilitate product distribution and order processing. Its products are sold through a comprehensive distributor base.

The Strongridge Division of Simonds offers a comprehensive line of industrial cutting and material handling products including lifting magnets, shop floor magnetic tools, hole cutters, bandsaw blades and power tool accessories including reciprocating, jigsaw, holesaw and hacksaw blades.

For more information on the new line of STRONG-MAG(TM) Magnetic Products from the Strongridge Division of Simonds or to inquire about possible distributorships, contact Simonds Industries Inc., 135 Intervale Road, P. 0. Box 500, Fitchburig, MA 01420. Toll-free telephone: 1-800-343-1616. Visit Simonds website at www.simonds.cc

More from Electronic Components & Devices