Position Sensors / Detectors / Transducers
Magnetostrictive Sensors suit metal industry applications.
Press Release Summary: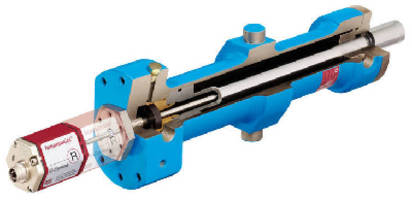 Available with various interfaces and compatible with POWERLINK protocols, R-Series survives harsh environments of metalforming applications. Position and velocity measurements can be provided for up to 4 locations on sensor. Position-sensing resolution, as low as 1 micron, can be adjusted at factory or in field, and linearity correction option improves non-linearity specification within ±20 microns. Accuracy can also be improved, ±10 microns, when using magnet matched to sensor.
---
Original Press Release:

MTS Sensors' Expands Versatility of Linear-Position Sensors for Metal Industry Applications with POWERLINK Capability



Sensors provide high speed, accuracy and durability in harsh environments...

CARY, N.C. (November 15, 2009) - MTS Systems Corp., Sensors Division has further expanded the already-extensive range of metalworking applications that benefits from its Temposonics® linear-position sensors by developing an R-Series sensor compatible with POWERLINK protocols. Temposonics magnetostrictive sensors provide high speed, accuracy and durability in the harsh environments of metal forming, die casting, metal shearing presses and steel rolling mills. The sensors are ideal for applications such as cut-to-length measurement, forming angle or stroke, grinding machine control, hydroforming, presses and die cutters because they offer superior performance and reliability despite high vibration and shock conditions.

"The high resolution and responsiveness of MTS' linear position sensors contribute to metalworking machinery's overall productivity by allowing shorter cycle times, faster change- over and minimal maintenance," said MTS Marketing Manager Matt Hankinson. "With the addition of POWERLINK capability, the sensors are ideal for even more applications in the metal industry."

The R-Series Ethernet POWERLINK sensor offers high performance with the reduced cabling and lower overall system cost provided by Industrial Ethernet. A resolution of 1 micron is possible for lengths from 25 mm to 20,000 mm. Position and velocity measurements can be provided for up to four locations on the sensor to ensure optimum control characteristics even when driving complex, multi-position tasks.

In die-casting applications, MTS' R-Series sensors are often chosen for their high resolution as well as the ability to provide additional feedback variables such as velocity.

In steel rolling, the R-Series sensor is used to control the hydraulic positioning of the rollers to tightly control the gap between rollers to ensure end-product quality and consistency.

In the harsh environment of metalforming and shearing press applications, the magnetostrictive sensors are embedded inside the hydraulic cylinders controlling movement of the machine platens that press the metal into sheet form.

Some machines use encoders for measurement, which make them much more fragile and vulnerable to harsh operating conditions. The magnetostrictive technology employed by MTS Temposonics sensors eliminates wear and guarantees the best durability and output repeatability.

The rugged, reliable, non-contact sensor construction results in reduced maintenance and down time, while high shock and vibration tolerance and superior EMI and noise immunity ensure trouble-free operation. The sensors also enable customers to store pre-set configurations for a wide variety of product shapes and sizes, reducing startup and changeover times. By optimizing machinery's performance, MTS' magnetostrictive linear-position sensors offer superior accuracy with higher consistency between changeovers and reduced setup time; precise and repeatable positioning for smoother, more controlled motion; and improved efficiency, yield, and throughput while maintaining quality. This results in higher overall productivity to the machine operator.

The R-Series sensors feature position-sensing resolution as low as 1 micron (0.00004 in) which can be adjusted at the factory or in the field. For most applications the standard RH (rod-style typically used in hydraulic cylinders) and RP (profile extrusion-style for easy machine mounting) sensors are used with the standard-type sensor magnets. However, for higher accuracy requirements, a linearity correction option is available to improve the sensor's non-linearity specification within +/- 20 microns. Even better sensor accuracy is available, (+/- 10 microns), when using a special proprietary magnet matched to the sensor.

Available with many interface choices, including analog, SSI, DeviceNet, Profibus, CANbus, EtherCAT, and now POWERLINK, the sensors provide smart programmability, allowing configurations to be stored and recalled directly at the PLC / HMI for even faster setup times.

For more information on Temposonics Sensors, please contact: MTS Systems Corp, Sensors Division, 3001 Sheldon Drive, Cary, NC 27513. Phone: (919) 677-0100. E-mail: info@mtssensors.com or visit their web site at www.mtssensors.com.

MTS Sensors, a division of MTS Systems Corp., is the global leader in the development and production of magnetostrictive linear-position and liquid-level sensors. Based on MTS' patented Temposonics® technology, the Sensors Division is continually developing new ways to apply magnetostrictive sensing technology to solve critical applications in a variety of markets worldwide. With facilities in the U.S., Germany and Japan, MTS Sensors Division is an ISO 9001 certified supplier committed to providing innovative sensing solutions that deliver customers with reliable, cost effective sensing devices.

More from Material Handling & Storage