Magnetic Switch Sensors feature TMR technology.
Press Release Summary: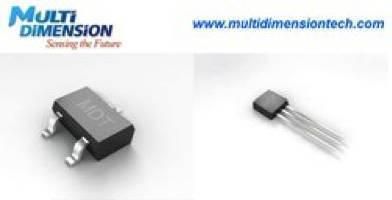 Integrating tunneling magnetoresistance sensors and signal processing ASICs within SOT-23 or TO-92 package, Model MMS101H features bipolar operation with digital latching output, while Model MMS201H provides omnipolar operation that can be triggered by south or north pole. Sensitive operate and release points are ±15 Gauss for MMS101H and ±10/±15 Gauss for MMS201H. Consuming less than 4.5 mA while operating continuously, sensors are intended for battery-powered industrial flowmeters.
---
Original Press Release:

MDT to Introduce New TMR Magnetic Switch Sensors at Electronica 2012



Zhangjiagang, China and Munich, Germany -- At Electronica 2012 in Munich, Germany, MultiDimension Technology Co., Ltd. (MDT) will introduce two new TMR magnetic switch sensors for battery-powered industrial flow meters, including water flow meters, heat flow meters and gas flow meters. MDT is a leading supplier of Tunneling Magnetoresistance sensors (TMR sensors). The exhibition booth of MDT is located in Hall A2 booth M12.



The new additions to MDT's existing TMR magnetic switch sensor portfolio are the MMS101H bipolar magnetic switch and the MMS201H omnipolar magnetic switch, for use in battery-powered magnetic sensor applications including flow meters and proximity switches. They are designed with sensitive switching points at low field, allowing smaller magnets or larger air-gap. They also feature very-low power consumption in continuous operation, enabling high-speed measurement and extended battery life simultaneously.



TMR technology has been widely used in the magnetic disk-drive industry. It has been proven a high-performance, power-efficient, cost-effective and dependable technology over the last decade. MDT is the first volume supplier that introduces advantages of TMR technology to the commercial magnetic sensor market in multiple product series, including TMR magnetic switch sensors, TMR magnetic field sensors, TMR magnetic angle sensors, and TMR gear tooth sensors.



The MMS101H and MMS201H magnetic switches consume very low supply current below 4.5 microamperes while operating continuously. Unlike other magnetic switch products that must employ power cycling or sleeping modes to reduce power, MDT's magnetic switch sensors exhibit very-low power consumption during high-speed continuous operation.



Key Features

- Bipolar operation with digital latching output (MMS101H)

- Omnipolar operation that can be triggered by either south or north pole (MMS201H)

- Sensitive operate and release points at +/-15 Gauss (MMS101H), and +/-10, +/-15 Gauss (MMS201H)

- High-speed magnetic field measurement at 1kHz frequency response

- Low power consumption at below 4.5 microamperes under 3V supply

- Continuous operation for reliable measurement

- TMR magnetic sensors and signal-processing ASICs integrated within a small SOT-23 or TO-92 package



About MDT

MultiDimension Technology was founded in 2010 in Zhangjiagang, Jiangsu Province, China, with branch offices in Shanghai and San Jose, Calif., USA. MDT has developed a unique intellectual property portfolio, and state-of-the-art manufacturing capabilities that can support volume production of high-performance, low-cost TMR magnetic sensors to satisfy the most demanding application needs. Led by its core management team of elite experts and veterans in magnetic sensor technology and engineering services, MDT is committed to creating added value for its customers and ensuring their success. For more information about MDT please visit www.multidimensiontech.com .

More from Mechanical Power Transmission