Magnetic Separators remove tramp iron contamination.
Press Release Summary: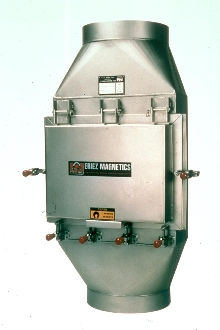 Round Pipe Separators have permanent magnetic elements. They work with gravity or pneumatically conveyed dry, free flowing products such as feed, grain, wood chips, or plastic. Separator is installed by cutting out section of chute where tramp iron contamination is present and slipping separator into position. Neoprene baffle directs flow over magnet face. Separators can use company's Erium(TM), Superpower, Maxipower, or rare earth magnets.
---
Original Press Release:

Magnetic Pipe Separators for Dry Gravity Flows


Erie, PA - May 2002 - Round Pipe Separators from Eriez Magnetics provide simple and effective removal of tramp iron contamination from gravity or pneumatically conveyed dry, free flowing products like feed, grain, wood chips, food stuffs, sand, or plastic. Eriez' Round Pipe Separators feature Erium(TM) powered permanent magnetic elements, rugged construction and no operating cost.

By integrating the magnet into a flow-deflecting housing, Eriez' Round Pipe Separators simplify installation, reduce engineering and installation expense and assure results. The standard assembly is installed by cutting out a section of the chute where tramp iron contamination is present and slipping the separator into position. A Neoprene baffle directs the flow over the magnet face improving tramp iron removal.

Assemblies accommodate Eriez' Superpower, Maxipower or, for difficult applications, Rare Earth magnets. The level of magnet strength required is determined by the application.

To receive Eriez brochure SB-140, call toll-free in the U.S. and Canada at (888) 300-(ERIEZ) 3743 or (814) 835-6000. For online visitors, use adLink# ZB99 at www.eriez.com or send email to eriez@eriez.com.

Eriez is recognized as the world authority in advanced technology for magnetic, vibratory and metal detection applications. The company's magnetic lift and separation, metal detection, materials feeding, screening, conveying and controlling equipment have application in the process, metalworking, packaging, recycling, mining, aggregate and textile industries. Eriez manufactures and markets these products through eight international facilities located on five continents.

Matt Glass - Altman-Hall Associates - Ph: 814-454-0158, Fax: 814-454-3266 or matt@altman-hall.com Technical Questions: Keith Jones

Eriez Magnetics - 814-835-6000 or kjones@eriez.com Eriez Magnetics 2200 Asbury Road P.O. Box 10608 Erie, PA USA 16514-0608 Phone: 814-835-6000 E-mail: eriez@eriez.com Web Site: www.eriez.com

More from Electrical Equipment & Systems