Magnetic separators remove accumulated fine iron contamination.
Press Release Summary: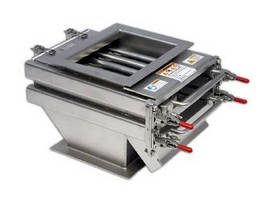 Xtreme® Rare Easy to Clean Grates in Housing, powered by Xtreme Rare Earth magnet material, remove weakly magnetic fine ferrous contamination. All 3 available sizes – 8.5 x 6 in., 10.5 x 8 in., and 12.5 x 10 in. – offer trouble-free, push-pull operation. Design simplifies and accelerates cleaning.
---
Original Press Release:

Xtreme® Rare Earth Easy to Clean Grates in Housing Now a Part of the Quick-Ship Eriez® ProGrade® Line



Erie, PA -- Xtreme® Rare Easy to Clean Grates in Housing are now available for quick shipment through the Eriez® ProGrade® line of high quality, low cost standard magnetic separators. "By popular demand, we continue to grow our successful ProGrade line to offer customers more convenient ordering and faster delivery," says Bill Dudenhoefer, Manager—Separation.



Xtreme Rare Easy to Clean Grates in Housing are powered by the unsurpassed strength of Xtreme Rare Earth magnet material. These separators are best at removing weakly magnetic fine ferrous contamination.



There are three sizes of Xtreme Rare Easy to Clean Grates in Housing available: 8.5" x 6", 10.5" x 8" and 12.5" x 10". All models are offered for quick shipment, with the 10.5" x 8" and 12.5" x 10" sizes available to ship the next business day via the EriezXpress® Program for qualified customers.



ProGrade Xtreme Rare Earth Easy to Clean Grates in Housing provide quick removal of accumulated fine iron contamination and offer trouble-free push-pull operation. Cleaning is quick and straightforward.



For more information on ProGrade Xtreme Rare Earth Easy to Clean Grates in Housing, including pricing, visit http://prograde.eriez.com/Products/PROGRADE/PGGrates/. For more information on Eriez' entire ProGrade line, visit http://prograde.eriez.com/.



Eriez is recognized as world authority in separation technologies. The company's magnetic lift and separation, metal detection, materials feeding, screening, conveying and controlling equipment have application in the process, metalworking, packaging, plastics, rubber, recycling, mining, aggregate and textile industries. Eriez manufactures and markets these products through 12 international facilities located on six continents.  For more information, call toll-free (888) 300-ERIEZ (3743) within the U.S. and Canada. For online users, visit www.eriez.com or send email to eriez@eriez.com. Eriez World Headquarters is located at 2200 Asbury Road, Erie, PA 16506





More from Fasteners & Hardware