Magnetic Safety Lock generates more than 1,500 N at 0.3 A.
Press Release Summary: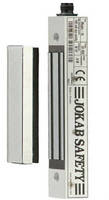 Able to electrically lock and hold door closed with up to 1,500 N of force, Magne 1A can be used together with Eden door position sensors to provide protection from dangerous machine movements. Magnet provides locked/unlocked indication with no current peaks on activation. Use of M12 connectors enables several Magne units and Eden sensors to be connected in series. Operating from -20 to +50°C, Magne 1A has no moving parts and is IP67-rated for harsh environments.
---
Original Press Release:

New Powerful Magnetic Safety Lock...



...for Industrial Applications!

Electrical Magnet MAGNE Generates up to more than 1500N at 0.3A

Jokab Safety has introduced a new electrical magnet developed for safety applications in combination with the Eden door monitoring switch.

The Magne 1A can electrically lock and hold a door closed with up to 1500 Newtons of force and when power is turned off no magnetic material will stick on the magnet surface.

Magne 1A can be used together with Eden door position sensors providing protection from dangerous machine movements. Use of M12 connectors makes it easy to connect several Magne units and Eden sensors in series, enabling control and monitoring by either a Pluto safety PLC or a Vital safety module. Via the connection cable it is also possible to obtain an indication signal informing if the Magne unit is locked or not.

Application:
Electrical locking of doors and hatches to production applications that are sensitive to unintentional/unnecessary interruptions.

Features:

o Robust construction - No moving parts

o Strong Magnetic holding force: 1500N

o Can stand and operate in harsh environments

o Locked/unlocked indication

o Possible to connect in series with Eden sensors

o No current peaks on activation

Accessories

o Mounting kit for conventional door, with fitting and screws for assembly on Jokab safety Quick-Guard fencing system (5-15mm door gap)

o Handle

Technical Data

o Manufacturer JOKAB SAFETY

o Ordering Data/Article Numbers see page 30

o Power Supply

o Magnet 24 VDC +15%/-20%

o Eden 17-27 VDC, ripple max 10%

o Power Consumption

o Magnet 7 W (300 mA at 24 VDC)

o Eden 45-55 mA (see data for Eden)

o Operating Temperature Range -20ºC to +50ºC

o Protection Class IP67

o Weight

o Magne 1A610 g

o Magne 2A700 g

o Armature290 g

o Holding Force

o 24 VDCmin 1500 N

o 3 VDC15 - 30 N

o 0 VDC0 N

o ContactsReed sensor (non-safety)

o Maximum Switch Current 100mA

o Mechanical Life>107

o Connector

o Magne 1A5-pole male connector

o Magne 2A8-pole male connector

o Connections - Magne 1A

o Brown (1)locking, +24 VDC

o White (2)NO/NC contact common

o Blue (3)0 VDC

o Black (4)NO-contact

o Grey (5)NC-contact

o Connections - Magne 2A

o White (1)dynamic signal input

o Brown (2)+24 VDC

o Green (3)locking, +24 VDC

o Yellow (4)locking, 0 VDC

o Grey (5)information closed (max. 10 mA)

o Pink (6)dynamic signal output

o Blue (7)0VDC

o Red (8)information locked (max. 100 mA)

More from Chemicals & Gases