Magnetic Rotary Encoder ICs can operate in low-power mode.
Press Release Summary: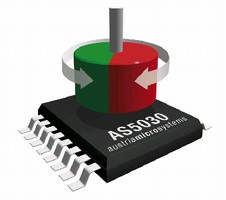 Offering contactless alternative to mechanical rotary switches, 8-bit Models AS5030 and AS5130 provide angle resolution of 1.4° over full 360° turn, accessible via digital serial interface or pulse width modulated outputs. Both devices offer push-button functionality with user-defined magnet-to-device displacement thresholds. Operating at 5 V supply voltage, units feature rotational speeds up to 30,000 rpm and temperature range of -40 to +125°C.
---
Original Press Release:

Austriamicrosystems Unveils AS5030 and AS5130, 8-Bit Magnetic Rotary Encoder ICs with Push-Button and Low-Power Mode Features



Ideal contactless alternative to mechanical rotary switches for a variety of automotive, industrial and consumer applications

Unterpremstaetten, Austria (November 8, 2006) - austriamicrosystems (SWX: AMS), a leading global designer and manufacturer of high performance analog integrated circuits (ICs) has further expanded its rotary encoder family by introducing the AS5030 and AS5130, two 8-bit absolute magnetic rotary encoder ICs with push button and low power mode features. The devices offer a reliable, contactless alternative to mechanical rotary knobs in a variety of automotive, industrial and consumer applications.

The AS5030 and AS5130 provide an angle resolution of 1.4 degrees over a full 360° turn (8-bit), accessible via digital serial interface (SSI) or via pulse width modulated (PWM) outputs. Both devices offer push-button functionality with user defined magnet-to-device displacement thresholds. For use in applications with stringent power
consumption requirements, both devices can operate in low-power mode. In addition, the AS5030 offers ultra low power sleep mode, which can be set by user.

"The AS5030 and AS5130 have been specifically designed to offer a low-cost, highly reliable solution for humanmachine-interfaces, such as rotary switches, dashboard and appliance knobs," said Josef Janisch, Product Manager Sensors & Automation at austriamicrosystems. "The push-button feature with multi-turn functionality, plus the low power consumption of the AS5030 and AS5130 deliver significant advantages in product design flexibility and product lifetime."

Both devices can be configured to provide data either via serial interface, PWM or daisy chain. The daisy chain configuration enables users to read the position information of individual devices serially, via a single two-wire bus.

The ICs operate at 5V supply voltage, cover a temperature range from -40°C to +125°C, and operate at rotational speeds up to 30,000 rpm.

The AS5030 is available in a lead-free TSSOP16 package while the AS5130 is available in a lead-free SSOP16 package. The AS5030 is available for sampling now and the AS5130 will be available for sampling in the first quarter of 2007. More product specific information can be found on the austriamicrosystems' website at www.austriamicrosystems.com/03products/20_rotary_encoders.htm

About austriamicrosystems
austriamicrosystems is a leading designer and manufacturer of high performance analog ICs, combining more than 25 years of analog design capabilities and system know-how with its own state-of-the-art manufacturing and test facilities. austriamicrosystems leverages its expertise in low power and high accuracy to provide industry-leading customized and standard analog products. Operating worldwide with more than 1,000 employees, austriamicrosystems focuses on the areas of power management, sensors & sensor interfaces, portable audio and car access in its markets Communications, Industry & Medical and Automotive, complemented by its Full Service Foundry activities. austriamicrosystems is listed on the SWX Swiss Exchange in Zurich (ticker symbol: AMS). For more information, please visit the web site at www.austriamicrosystems.com.

Electronic picture and block diagram are available on request or at
http://austriamicrosystems.com/07presscenter/presscenter_start.htm

Technical Contact
austriamicrosystems AG
Josef Janisch
Product Manager Sensors & Automation
Tel: +43 (0) 3136 500 5464
Fax: +43 (0) 3136 500 5420
Josef.janisch@austriamicrosystems.com
www.austriamicrosystems.com

More from Optics & Photonics