Magnetic Encoder offers programmable resolution to 0.2 micron.
Press Release Summary: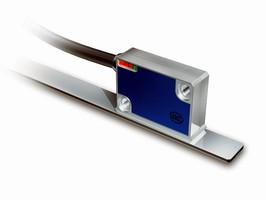 Featuring flexible adhesive-backed magnetic band, MSK1000 encoder is unaffected by external magnetic fields. Encoder offers real-time edge separation for velocities up to 16 m/sec, and includes on-board status LEDs and diecast housing. System accuracy is rated at 10 µm over 2 m without correction factoring. IP67 rated CE marked sensor has added noise immunity from diecast body shielding. System also features single point reference mark or periodic index mark outputs.
---
Original Press Release:

0.2µm Resolution from SIKO's Programmable Magnetic Encoder



SIKO Products, Inc. introduces the MSK1000 - the latest high resolution, low power sensor development for linear and rotary applications. Utilizing a low pro-file magnetic band, programmable resolutions to 0.2 micron direct from the sensor are obtainable. Programmable real-time edge separation for velocities up to 16 meters per second, along with on-board status LED's and new diecast housing are also new product enhancements.

The SIKO MSK1000 encoder utilizes a magnetic technology, offering large advantages over optical systems. Inherent contamination immunity, much larger alignment toler-ances, non-enclosed, extended temperature range and lower costs are just a few of the advantages of the SIKO system. The IP67 rated CE marked sensor has added noise immunity due to added shielding from the diecast body, and the system accuracy is rated at 10um over two meters - without correction factoring. Single point reference mark or periodic index mark outputs also compliment the system. The flexible adhesive-backed magnetic band and small size, low mass sensor are virtually unaffected by external mag-netic fields, making them quite suitable for linear servo motor and direct drive rotary applications, to name just a few.

About SIKO Products
Since 1963 SIKO has been manufacturing intelligent measurement solutions. The MSK1000 is the newest addition to their linear and rotary encoder product lines, which includes absolute, quasi-absolute and incremental signal outputs.

Contact person:

Joe Slovak
VP - Sales & Marketing
Tel. (847) 271-4201
email: encoders@comcast.net

SIKO Products, Inc
2155 Bishop Circle East
Dexter,MI 48130

Tel. (734) 426-3476
Fax (734) 426-3453
email sales@sikoproducts.com
website: www.sikoproducts.com


Related