Magnetic Drills incorporate LED indicator for safety.
Press Release Summary: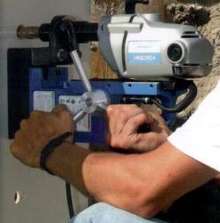 Models HMD904, HMD150, and 10914 feature LED indicator with circuitry that monitors critical magnet lift detector. LED provides instantaneous alert to operator, switching color from green to red if unsafe condition exists involving sensor. Drills also feature 2-stage power-on switch that prevents spindle rotation unless electro-magnet has been energized. In case of power interruption, relay circuitry requires motor to be manually restarted by operator.
---
Original Press Release:

LED Upgrade Gives Green Light to Safety for Magnetic Drills


Hougen Manufacturing's magnetic drills have been considered industry leaders when it comes to portability and holemaking performance, and always at the forefront in operator safety. Now, safety again holds center stage as Hougen incorporates a major product upgrade among several of its most popular drill models, including the HMD904, HMD150 and the 10914. The new feature is an LED indicator with circuitry that monitors the drills' critical magnet lift detector. The LED provides an instantaneous alert to the operator, switching color from green to red if an unsafe condition exists involving the sensor, one that should be corrected prior to further use.

In normal operating mode, the lift detector, located on the bottom of the drill's magnetic base, will immediately shut down the motorized spindle if movement of the magnet is detected. This prevents the potential risk for the drill to spin around causing possible injury. Under these conditions, the LED is green. When the light is red, it is a warning that the sensor is not operating correctly. Possible causes may be that the detection circuit's sensor is out of adjustment (the operator's manual describes adjustment procedures), the sensor is damaged and requires service, the magnet is placed on an uneven surface or there is dirt and debris between the magnet and the work surface, thus preventing a secure hold. Another possible cause for the warning display is if the material to be drilled is too thin, not allowing the magnet to engage properly.

Importantly, the LED indicator not only provides an extra measure of safety with its timely alert, the 'red' display also helps to pinpoint operational deterrents to achieving optimum holemaking performance.

In additon to the new LED indicator, these Hougen drill models also feature a two stage power-on switch that prevents spindle rotation unless the electro-magnet has been energized. In the case of a power interruption, relay circuitry requires the motor to be manually restarted by the operator once power is restored.

The HMD904 drill is lightweight (27.5 lb.) and compact, yet drills holes up to 1-1/2" diameter and to 2" depths. The HMD150 is an ultra-low profile drill, standing just 7-13/16" tall for drilling holes in confined spaces up to 1-3/8" diameter by 1" depths. Finally, the 10914 model drill is a multipurpose workhorse, featuring a holemaking capacity of up to 2-1/16" diameter through materials up to 3" thick. The drills use Hougen's lineup of annular cutters to drill holes up to three times faster than conventional holemaking tools. Among the cutters are the Rotabroach "12,000-Series" tools, the Rotaloc(TM) and Rotaloc Plus(TM) cutters.

Hougen also produces 11 other models of portable magnetic drills with capacities to 3-1/16" diameter and 3" depth of cut. Additional products offered include a complete line of individual and kit-packaged annular cutters for portable drilling and stationary machine tools, cutters specifically designed for sheet metal and plate work, plus Punch-Pro® Electro-hydraulic, single-body and easy-to-use hole punchers with associated tooling.

For additional information regarding Hougen Manufacturing and its products, visit www.hougen.com

More from Mechanical Power Transmission