Magnetic Drill Stand works with annular cutters to cut steel.
Press Release Summary: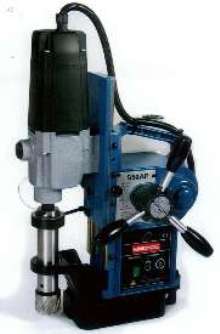 Designed to accept any ¾ in. shank cutter with one or more flats, Auto-Feed Model S50AF utilizes cutters up to 2 in. Operating at no-load speeds of 350-650 rpm, controlled feed and speed system automatically adjusts speed of advance of hole cutter into workpiece, while slow start feature minimizes entry shock damage. Dual coil magnetic base with 1,585 lb of clamping force ensures stability. System is portable enough to move around shop floor or job site.
---
Original Press Release:

New Automatic Feed Magnetic Drill Stand for Annular Cutters Improves Productivity and Delivers Cleaner Cuts Through Steel


Fitchburg, MA (December 17, 2004) - A new automatic feed magnetic drill stand designed for use with annular hole cutters to cut faster and cleaner holes through engineering and structural steels has been introduced by Simonds International. The S50AF Auto-Feed Mag Drill System delivers the ideal balance of cutting speed and prolonged tool life allowing users to cut time, cut costs and cut smart.

Designed to accept any 3/4" shank cutter with one or more flats, the S50AF Auto-Feed Mag Drill System utilizes cutters up to 2" (50 mm). Operating at no load speeds of between 350-650 rpm, the automatic feed control actually senses cutter size and work piece location to provide for efficient cuts. Safety is improved with an automatic stop feature.

The S50AF Auto-Feed Mag Drill features a controlled feed and speed system, which automatically adjusts the speed of the advance of the hole cutter into the work piece. Combined with its "slow start" speed feature to reduce entry shock damage, the new system is designed to maximize annular hole cutter life reducing expensive frequent replacement costs.

Weighing only 46 lbs., the S50AF Auto-Feed Mag Drill System is portable enough to move around the shop floor or job site to bring the tool to the application. Other features include a dual coil magnetic base with 1,585 pounds of clamping force to ensure stability, safety and less vibration during the cut and an integrated coolant system with auto shut-off at the end of the cut.

Besides the S50AF Auto-Feed Mag Drill System, Simonds is also offering several other models without an automatic feed feature. These magnetic drill stands have many of the same features as the S50AF and feature a quick change arbor allowing users to change tools in only ten seconds. These machines are available with cutter capacities of up to 1 3/8" (35 mm), 2" (50 mm) and 4" (100 mm).

Simonds International also has a line of annular hole cutters designed to deliver burr-free holes in a single operation without having to drill time-consuming pilot holes or by step drilling. Constructed of M2 high-speed steel, these cutters are designed for use on magnetic drill bases, drill presses and milling machines in applications ranging from steel erection and fabrication and bridge and highway maintenance to truck and trailer manufacturing and HVAC and elevator repair.

Simonds International offers an extensive array of professional grade products including bandsaw blades, circular saw blades (SystiMatic(TM) brand), power hacksaw blades and power tool accessories including hole saws, annular hole cutters, reciprocating saw, hacksaw and jigsaw blades. Simonds also offers a line of industrial products including lifting and holding magnets and magnets for use on the shop floor. Its products are sold through a comprehensive distributor base.
For more information on the new S50AF Auto-Feed Mag Drill System or the line of new magnetic drill stands, contact Simonds International by calling toll-free (800)343-1616. View Simonds products at www.simondsinternational.com

More from Material Handling & Storage