Magnaflux Launches Universal WE Wet Bench with Automatic Sequencing Mode
Press Release Summary: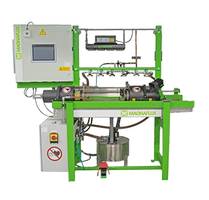 Magnaflux's Universal WE Wet Bench is designed to magnetize the surface of parts of up to 35 in. length. Unit can be programmed to automatically clamp, bathe, magnetize and demagnetize the part. The bench comes with coil-less, multi-directional shot capabilities that reduces the inspection time. Universal WE can be configured with overhead surface shower system that performs bathing of the entire part with automatic magnetization. Unit enables the operator to test the part quickly and consistently.
---
Original Press Release:
New Magnaflux Magnetic Particle Wet Bench for High Speed Inspections
Universal WE is a multi-directional wet bench designed to meet the speed requirements of high volume production facilities 
GLENVIEW, Illinois – May 3, 2018
Magnaflux is introducing a new multi-direction magnetic particle wet bench – one that is specifically designed for speed. The Universal WE wet bench is designed with automotive customers in mind. In fact, the Universal WE is the best-selling Magnaflux equipment in Europe and has been the preferred wet bench for European automotive OEMs and suppliers for years. The Universal WE is now available in North America to complement the existing line of magnetic benches from Magnaflux.
What makes the Universal WE so fast? For starters, the Universal WE is a multi-directional machine. It is designed to completely magnetize the surface of parts, up to 35 inches in length, with a single shot. This means you only need half the time for magnetizing, half the time for bathing the part, and half the time to inspect the part. No more need for additional coil shots!
The Universal WE can further increase speed without sacrificing process control by setting up automatic sequencing mode. The Universal WE can be easily programmed to automatically clamp, bathe, magnetize and demagnetize the part. This feature will ensure operators are testing parts quickly and consistently. The Universal WE will also be configured with a large surface shower system. This overhead shower system will reduce the inspection time per part by bathing the entire piece at once automatically with magnetization.
The Universal WE is an AC only machine, which reduces the complexity because most automotive manufacturers only need to look for surface indications, and therefore do not need DC capabilities.
Speeds Up the Inspection Process
Reduce your part inspection time significantly by utilizing the Universal WE's extra-long, coil-less, multi-directional shot capabilities. If that isn't enough, take advantage of the large surface shower system and automatic sequencing mode to completely optimize your inspection process.
Improve Process Control
A high-speed production line demands better control over the entire process. With the Universal WE, operators can save over 1000 techniques right on the machine, which reduces the chances of error. Also, the automatic sequencing mode can ensure that each step in the process is being carried out and is the same as the prior part.
Real World Reliability
The Universal WE will stand the test of time because Magnaflux stands behind our products. We offer the best in class service and will be providing a spare parts package to ensure that your production line never needs to endure extended downtimes.
About Magnaflux
Magnaflux is a global leader in nondestructive testing solutions, and partners with manufacturers, NDT test labs and field inspectors to make the world a safer place through NDT.
Our customers trust us to help them ensure the very best quality control for their most critical components with products and equipment for penetrant testing and mag particle inspection, along with NDT UV light and lamps, couplants for ultrasonic testing and other NDT products.
Our uncompromising stance on safety and performance is what sets us apart, and why generations of NDT professionals continue to rely on us.
Magnaflux Contact Information:
Matthew Bucek, Division Marketing Manager
T +1 224-661-8611
M +1 224-578-4721
mbucek@magnaflux.com
More from Software