MadgeTech to Reveal New Sterilization Data Logging System at Interphex 2015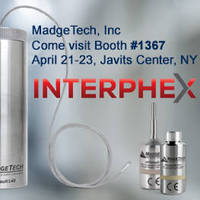 MadgeTech is joining more than 600 exhibitors and over 12,000 global attendees for Interphex 2015, one of the largest pharmaceutical technology expositions in the world. This three day event will take place April 21st-23rd at the Javits Center in New York City. The show focuses on the latest breakthroughs in the pharmaceutical and biotechnology industry.



Technical Sales representatives Tom Donahue and Brittany Lemelin will be at the event to display and demonstrate the latest data logging innovations for sterilization and facility monitoring needs.



New Product Spotlight:

The following new arrivals coming soon from MadgeTech will be revealed at Interphex and available in May 2015.



Introducing the ThermoVault140-DHS Dry Heat Sterilization Data Logging System

This all in one depyrogenation solution comes equipped with the new HiTemp140-M12 Data Logger, a 36" flexible fiberglass insulated RTD probe, and the ThermoVault140 extreme temperature thermal barrier. This system is capable of withstanding and measuring temperatures up to 400°C, allowing it to record throughout the entire depyrogenation process.



The new HiTemp140-M12 high temperature data logger with M12 probe connector

This data logger features the popular rugged steel body design of the HiTemp140 data logger series with the flexibility to utilize dozens of RTD probe options with M12 connection compatibility. The HiTemp140-M12 data logger body has an operating environment temperature maximum of 140 °C, while offering the ability to measure temperatures up to 850 °C, probe dependent. This data logger is rated IP68, making it ideal for a wide variety of high temperature monitoring applications.



More Product Highlights:

Cutting edge products that are now available from MadgeTech and will be on display at Interphex.



AVS Autoclave Validation System

This customizable system is equipped with a combination of 6 high temperature and pressure data loggers, the IFC406 Multiplexer Interface and the MadgeTech Secure Software package with IQ/OQ/PQ guidelines. The AVS delivers a turnkey autoclave validation solution with all components neatly enclosed in a sleek and protective aluminum briefcase for storage and easy transport. Choose any combination of HiTemp140 probe styles and lengths to create a customized validation kit.



MadgeTech Cloud Services

Continuous monitoring is brought to a whole new level by offering instant access to temperature, humidity or pressure data through any internet enabled device. Now, monitoring a single logger application or hundreds of data loggers at multiple facilities becomes simple from anywhere in the world.



Sterilization Validation

MadgeTech delivers comprehensive data logging solutions for various sterilization methods.



Hardware: MadgeTech builds data loggers that are custom designed for sterilization validation and monitoring needs. Specializing in Steam Sterilization, EtO or chemical sterilization, Depyrogenation or dry heat sterilization, the MadgeTech technical sales staff are well versed with the specific device and regulation demands of each sterilization method and can help guide data logger selection to assure the solution will fit the need.



Software: All MadgeTech data loggers come with custom data logging software for data analysis and reporting, with secure software options available for 21 CFR Part11 compliance and IQ/OQ/PQ protocols. The MadgeTech Data Logger Software displays sterilization specific report data that includes lethality equations (F0, PU).



Service: MadgeTech not only manufactures, but also provides ongoing service and maintenance for all data loggers to assure that all aspects of the system remain fine-tuned for efficient operation and compliance with federal regulations. Calibration services are performed at MadgeTech's in house state-of-the-art calibration lab with custom calibration options available to accommodate specific logging applications.



Facilities Monitoring

MadgeTech offers a wide variety of wireless data loggers to monitor virtually any parameter. With the ability to transmit real time data wirelessly to a central workstation, monitoring a large facility or campus can be easily achieved. All transmitted or downloaded data is automatically saved by the MadgeTech software, so there is never a concern about reporting for validation or investigation, and record keeping is taken care of.



Are there multiple facilities in different locations that all need monitoring? Not a problem. With the introduction of the MadgeTech Cloud Services, temperature, humidity or pressure data can be instantly accessed from any internet enabled device. This allows management to have 24 hour access to the status of multiple locations, rooms, labs, warehouses, offices or freezers, from anywhere.



The MadgeTech Cloud Standard platform can be up and running in minutes! No development, special configuration or set up fees are necessary. The MadgeTech Cloud platform is very scalable and can also be customized to fit specific company intranet or restricted access needs, allowing related facilities to share data as needed, regardless of location.



The MadgeTech expert sales representatives are more than happy to assess your temperature, humidity and pressure monitoring needs and customize a continuous monitoring solution that fits your organization, large or small.



If you would like to schedule an appointment to meet with a MadgeTech representative during the show, please click here, or stop by the MadgeTech booth #1367 to see Tom and Brittany and enter for your chance to win a Surface Pro 3.



We hope to see you at the show!



More from Fluid & Gas Flow Equipment