Machining Tubes Made Easy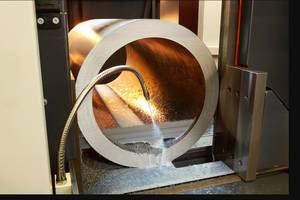 At the Tube in Düsseldorf, the world's most important trade fair for the tube and tube processing industry (16 - 20 April 2018), the sawing and storage technology specialist KASTO will be presenting highlights from both of its business segments. Among the products shown in hall 6 at booth 6A07 will be the innovative band saw KASTOwin tube A5.0 which has been specially designed for machining tubular material. Visitors can also experience the compact and space-saving UNITOWER tower storage system.
The KASTOwin tube A 5.0 is a fully automatic band sawing machine which has been specifically optimised for machining tubes. It features a cutting range of 500 millimetres for round materials and a shortest possible cutting length of ten millimetres. The most important innovation: Compared to the other KASTOwin models, the direction of movement of the saw feed is rotated through 180 degrees and sawing is performed upwards from the support surface. This ensures efficient, precise sawing that considerably improves chip flow and reduces wear on the cutting tools.
Using the frequency-controlled drive, it is possible to adjust the cutting speed continuously between twelve and 150 metres per minute. Carbide saw bands, of the type required for various tubular materials, can be used with the KASTOwin tube A 5.0 without the need for any further accessories. The saw band is clamped in position hydraulically and is cleaned using a replaceable, electrically driven chip removal brush. The vice and saw feed are equipped with zero-play linear guides, and ball screw spindle drives ensure controlled cutting and material feed movements.
The SmartControl sawing machine controller ensures easy operation. It contains all the material data, and automatically sets all the necessary parameters. The KASTOrespond system, which was developed specially for this system, continuously records the forces at the tool and uses an intelligent algorithm to convert these into feed movements. When special requirements have to be met, KASTO can offer a wide range of accessories for the KASTOwin tube A 5.0, such as a heating and cooling device for operation at temperatures over 40 or below zero degrees Celsius.
The UNITOWER tower storage system is available in three different designs and is suitable for bar materials, sections, sheet and plates as well as for euro-pallets, boxes and more. The towers are designed as modular systems with a maximum height of 25 metres. As a result, individual solutions can also be implemented with ease. Thanks to its variable loading height, the UNITOWER needs significantly less room and is therefore more economical than floor or cantilever arm storage systems. In addition, input and output stations connected to automatic conveying technology or to processing machines allow the material flow to be optimised.
Cassettes, pallets or supporting frames are used as load carriers. Depending on the design, each storage space can carry loads of up to five tonnes. The towers effortlessly accept bar stock from 3,400 to 14,600 mm in length, thus giving users recourse to different standard lengths as well as workpiece or production-optimised special lengths. Along with the low space requirement, UNITOWER storage systems are distinguished by their high efficiency. A storage and retrieval machine with spreader beam handles the load carriers. Compared with other systems, this has the advantage that it is not necessary to move the entire stock, but only the relevant cassette. This ensures rapid access times and – thanks to efficient drives – saves energy. The UNITOWER is, for example, employed as a buffer store in fabrication shops, or for small to medium quantity storage in steel and other trading companies.
About KASTO:
KASTO Maschinenbau GmbH & Co. KG, based in Achern, Germany, specialises in sawing and storage technology for bar stock. The company is a global leader in the manufacture and sale of metal-cutting saws and semi-automatic and automatic storage systems for bar stock and sheet metal. It is also a leading manufacturer of automatic handling systems for metal bars, sheet metal and pre-cut parts, as well as the corresponding software. One of Europe's oldest family-owned companies, KASTO celebrated its 170th anniversary in 2014. In the course of its successful history it has registered 160 patents, delivered more than 140,000 sawing machines to all parts of the world and installed more than 1,800 automatic storage facilities. In addition to a branch in Schalkau, Thuringia, KASTO has subsidiaries in England, France, Switzerland, Singapore and the USA.
More from Electronic Components & Devices