Machining Centers feature diagnostic communication system.
Press Release Summary: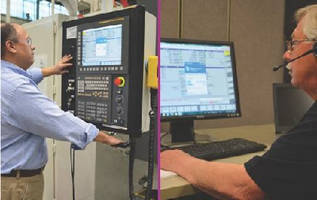 Standard on Cincinnati and Giddings & Lewis machine tools and composite systems, Diagnostic Communication System allows machine operators to connect with company experts via secure CNC screen sharing to diagnose and overcome stoppages within minutes. System is also available as upgrade for installed machines with PC-based HMI on Fanuc, Siemens, and Heidenhain controls. Enabling software, TeamViewer, establishes encrypted, password-protected connection to customer's CNC over VPN.
---
Original Press Release:

New Fives Diagnostic Communication System Ensures Higher Customer Uptime and Faster Service



FOND DU LAC, Wis., – Fives Machining Systems is introducing a new remote diagnostics capability that allows machine operators to connect with Fives Cincinnati and Fives Giddings & Lewis experts — via secure CNC screen sharing — to diagnose and overcome many stoppages within minutes. "In 30 to 40 percent of cases, we can solve a customer's problem or point them to the solution, without the delay for on-site service," said Wade Blain, project engineer, Fives Giddings & Lewis. "It significantly increases customer uptime, and if a repair is needed, the diagnostic process allows us to ship the correct parts in advance so the service person can start work immediately on arrival."



A complete and effective remote diagnostic system; easy to operate Diagnostic Communication System (DCS) is now standard on all new Cincinnati and Giddings & Lewis machine tools and composite system. It is also available as a system upgrade for installed machines with a PC-based HMI on Fanuc, Siemens and Heidenhain controls. The enabling software, TeamViewer, establishes an encrypted, password-protected connection to the customer's CNC over a VPN (virtual private network). A new and unique password is generated by TeamViewer for each session. Legacy CNCs can access diagnostic service using a connected laptop to run TeamViewer software.



"A major advantage is that we can have several of our factory technicians from different departments simultaneously logged into a customer's machine to ensure we have the right expertise to handle most any problem," said Blain. "We can examine active alarms and operator messages, operator and alarm histories, control parameter settings, PLC programs and the state of devices such as solenoids, switches and encoders. Even without a fault message, we may be able to step the customer through to a solution. We can do audio and video sessions, too, if the customer has a webcam."



A secure and proven tool

TeamViewer software is an established IT industry tool for high-security remote maintenance of data processing systems in government and highly sensitive businesses. It is in use on 200 million computers worldwide, according to the manufacturer, TeamViewer GmbH.



For additional information, see: fivesgroup.com

*TeamViewer is registered trademark of TeamViewer GmbH.



About Fives in Metal Cutting | Composites

The Metal Cutting © Composites offer is specialized in the supply of machine-tools and complete manufacturing solutions. With a strong foundation based upon renowned legacy names such as Cincinnati, Giddings & Lewis, Forest-Lin, Lin Machines and Global Services, Fives is recognized as the preeminent provider of outstanding manufacturing solutions which are at the heart of its customers' performance.



Fives Metal Cutting | Composites dedicated teams — approximately 1200 people in over 15 countries — serve key industrial markets including aerospace, automotive and truck, heavy equipment, oil and gas, rail, wind, energy and general machining. With manufacturing and support operations strategically located worldwide, Fives and its Metal Cutting | Composites activity offer comprehensive lines of equipment and technologies including automated assembly, turning, milling, composites processing and software, additive manufacturing, laser welding and cutting, with the associated support services (maintenance, spare parts, retrofit, overhauling and upgrading).



About Fives

Fives is an industrial engineering Group with a heritage of over 200 years of engineering excellence and expertise. Fives designs and supplies machines, process equipment and production lines for the world's largest industrial groups in various sectors such as aluminum, steel, glass, automotive, logistics, aerospace, cement and energy, in both developing and developed countries. In all these sectors, Fives designs and manufactures equipment and innovative solutions, which better anticipate and meet the needs of its customers in terms of performance, quality, safety and respect for the environment.



In 2014, Fives achieved a turnover of 1.6 billion Euros and employed about 8,000 people in over thirty countries.



Press contacts:

Metal Cutting | Composites:

Linda Kieckhafer

+1 920 906 2328



[email protected]





Fives Group:

Claire Mathieu

+33 1 45 23 76 21



[email protected]