Machining Center suits aluminum and non-ferrous materials.
Press Release Summary: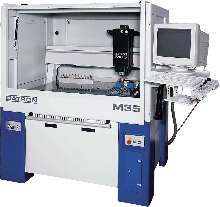 The M35 Aluminator(TM) High-Speed Machining Center offers 60,000-rpm spindle for applications of 0.25 in. OD or less. Bed size is 40 x 27 in. with machining area of 40 x 27 x 8 in. Unit requires 208 V single phase power with feed rates up to 400 in./min, cutting accuracies with repeatability of ±0.0004 in., and resolution of ±0.00006 in. System has Windows® driven Pentium-based PC control.
---
Original Press Release:

New Milling Machine with Unique Features and 60,000 RPM Spindle Provides Affordable, Highly Efficient Micro Machining


(Springfield, MA, May 20,2003) - Datron Dynamics, Inc. is introducing its new M35 Aluminator(TM) High-Speed Machining Center here at the EASTEC Show, Booth 3363. The M35 offers ultra-high speed machining via a 60,000-rpm spindle. When combined with a large bed size, unique workholding accessories and oil-free coolant, the machine provides shorter cycle times, fewer secondary operations and superbly clean and accurate, burr-free part machining.

"With pricing as low as $55,000 U.S., the M35 offers a high-quality machining solution with incomparable value on tooling applications of 0.25" OD or less for aluminum and other non-ferrous materials, said Datron President Dr. Walter Schnecker.

The M35 Aluminator is also optionally furnished with Datron's unique, Quick-Pallets(TM) modular workholding system that uses a vacuum to hold special templated plates or pallets, allowing the machining center to perform fast and easy part setups and changeovers. Pallets are simply placed on the machining bed, automatically keyed to a fixed position and secured via vacuum. Changing a pallet requires no tooling or clamping, dramatically reducing setup time from an average of 30 minutes to 30 seconds.
When cutting aluminum, its integrated, micro-mist alcohol-coolant system provides superb, clean, part-surface finishes, eliminating deburring or degreasing secondary operations, saving valuable production time.

The M35 Aluminator also has a large bed size (40 X 27"), a machining area of (40 X 27 X 8") and a knock-out area to allow vertical clamping or a continuous bed for larger or unconventional parts. However, the overall machine size and footprint is very compact and requires only 208V single phase power.

It's optional 60,000 RPM high-frequency spindle with feed rates up to 400 inches per minute for all axes allows rapid cutting through non-ferrous materials, dramatically reducing machining times. At these high-spindle speeds, less force is generated for fast and accurate cutting.

Precise cutting accuracies with a repeatability of +/- 0.0004" and a resolution of +/- 0.00006" are also gained through the machine's stable bridge-style design, steel construction and polymer-concrete bed.

The M35 also protects itself against serious damage. Operators can't bend the ball screws or the guideways. Datron's high-speed digital servodrives constantly monitor the resistance on the axis. If the load on a drive ever increases beyond normal parameters during machining, the machine will automatically stop. To protect the ball screws and guideways, the machine can never be moved beyond its work envelope. The system also has an integrated safety enclosure with lockout feature.

A Windows® driven Pentium-based PC control offers easy-to-use canned cycles with an intuitive control that uses look-ahead buffers and diagnostic features. A new smoothing feature in the software allows machining programs to be optimized for surface finish and cycle time. A hand-held pendant is included, designed for easy machine control and operation.

Applications for Datron's M35 Aluminator include automotive and aerospace parts manufacturing, panel manufacturing, engraving, 3D-mold making, rapid prototyping, EDM-graphite electrode production, and milling electronic circuit boards.

Available options include: Datron Quick Pallets workholding solutions, 1HP 60,000rpm spindle, Z- height correction sensor, edge-finding ability, pneumatic quick-clamp system, 15 or 30 tool changer with tool-length sensor, programmable RPM control software, extensive CAD/CAM interfaces, 4th and 5th axis and special tooling.

Datron Dynamics is the North American subsidiary of the German technology firm Datron Electronic. Since 1969, Datron Electronic has earned a reputation as the European leader in the design and development of innovative electronic systems/products. With machine installations worldwide, Datron offers an extensive array of CNC machining solutions and micro tooling, created specifically for high-speed machining in many materials.
For more information on Datron's M35 Aluminator, contact Robert Murphy at Datron Dynamics, Inc. 454 Route 13, Milford, NH 03066, 888-262-2833, www.DatronDynamics.com. E-Mail: info@datrondynamics.com.

Windows® is a registered trademark of the Microsoft Corporation.

More from Electrical Equipment & Systems