Machining Center provides 5-axis contouring of long parts.
Press Release Summary: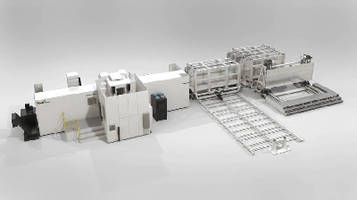 Providing 5-axis contouring with no chip attendant, blow-off, or re-cutting, H12000 HyperMach(TM) Processing Cell allows horizontal part loading on 39.4 x 6.5 ft pallet for machining of aluminum or titanium aerospace parts such as wing spars, ribs, fuselage frames, and floor components. Featuring full-portal, closed-loop construction and scale/encoder feedback on all 5 axes, cell-ready machine offers choice of 30,000 rpm/100 kW HSK63A or 20,000 rpm/85 kW HSK100A motorized spindles.
---
Original Press Release:

New HyperMach(TM) H12000 Brings Horizontal 5-Axis Contouring Efficiencies to Monolithic Aerospace Parts up to 12 x 2 Meters



Cell-ready H-Series goes to 6, 8 and 12-meter lengths for efficient processing of long parts or nested parts - aluminum or titanium - with new 30,000 rpm/100-kW or 4,800 rpm/1050 Nm spindles

August 2009 - MAG brings the efficiencies of horizontal 5-axis contouring (no chip attendant, blow-off or re-cutting) to long aerospace parts up to 12 x 2 meters with the introduction of its new H12000 HyperMach(TM) processing cell. The largest of three new models in the HyperMach H-Series - H6000, H8000, H12000 - the new H12000 allows efficient horizontal part loading on a huge 12 x 2 meter (39.4 x 6.5 ft) pallet for large-part machining of wing spars, ribs, fuselage frames and floor components, or nested part groups. Joining the original HyperMach H4000, the new models for aluminum machining offer an expanded choice of 30,000 rpm 60 kW (80 hp) or new 100 kW (134 hp) HSK63A motorized spindles, or 20,000 rpm 85 kW (115 hp) HSK100A motorized spindle. The powerful high-speed spindles deliver high metal removal rates of 8066.5 cc/min (500 in3/min) on aluminum plate or forgings. New GTi titanium models in the H-Series offer a choice of two geared, high-torque HSK100A spindles delivering 850 Nm or 1050 Nm torque at 6000 or 4800 rpm.

All HyperMach H-Series machines feature a full-portal, open-center design, and industry-best horizontal machining productivity. Cutting operations are totally enclosed with chip fall-through to a high-volume conveyor, avoiding chip recutting and the need for a chip blow-off attendant. Full-portal "closed-loop" construction maximizes stiffness and ensures consistent cutting performance at any position of the pallet and spindle, while eliminating thermal drift and periodic realignment between column and pallet table. Scale/encoder feedback on all five axes enables extreme accuracy beyond the capabilities of other horizontal machines currently on the market today. The 4, 6 and 8-meter machine models use a fixed-column, traveling-table/pallet design, while the 12-meter model use a traveling-column, stationary-pallet receiver. All H-Series machines are cell-ready for integration in multiple-machine, pallet-pool systems using MAG CINCRON® cell modules.

The HyperMach H-Series uses proven elements from MAG's advanced line of HyperMach vertical profilers, only in different orientation. MAG aerospace senior product manager, Randy Von Moll notes, "the larger range of the new models increases the machining capacity and cost-reduction efficiencies for longer aerospace parts that would normally be processed by vertical machines."

Water-cooled servomotors are utilized on all five axes of H-Series machines to eliminate thermal influence of the motors and maximize performance for high acceleration/deceleration and feedrates. The X-Axis table/pallet receiver and the Y and Z axes are capable of speeds up to 50 m/min (2000 ipm), while the spindle carrier rotates at 150 degrees/sec (25 rpm) in A and C axes powered by direct drive permanent magnet torque motors - no gears, belts or mechanical drive elements to wear or replace. The H-series comes standard with 96-tool automatic tool changer (HSK63A), field-expandable to 190-tool capacity.

H-Series machines can be set up for pallet load from the right or left side with chip conveyor discharge configured in either direction, enabling best-fit to shop layout and work flow. Compact design allows a larger machining envelope with a smaller footprint than competitive machines. A centrally located operator station gives the full view of machining area, automatic tool changer, tool storage, and critical utilities/services cabinet. The operator can check, load and exchange tools without walking around to the opposite side of the machine. Flat floor installation reduces cost and installation time, avoids pits and multi-step foundations, allowing easy reconfiguration of the plant layout. CINCRON Cell Automation Modules allow near-infinite material handling and cell configurations for multi-machine, pallet-pool processing and highest production efficiency.

About MAG

MAG is a leading machine tool and systems company serving the durable-goods industry worldwide with complete manufacturing solutions. The company offers a comprehensive line of equipment and technologies including process development, automated assembly, turning, milling, automotive powertrain production, composites processing, maintenance, automation and controls, and core components. Key industrial markets served by these technologies include aerospace, automotive and truck, heavy equipment, oil and gas, rail, solar energy, wind turbine production and general machining.

With manufacturing and support operations strategically located worldwide, MAG ranks as a leader in the capital equipment market. A growing number of leading international companies are relying on the impressive innovation power of MAG to assure their technological leadership and prepare for future challenges.

For more information about MAG, please visit: www.mag-ias.com

More from Test & Measurement