Machining Center offers accuracy better than ISO 10791-4.
Press Release Summary: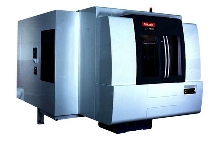 u-4800 HMC features 40 hp spindle able to accelerate from 0 to 15,000 rpm in 1.9 sec. Rapid traverse rates and max feed rate are 2,362 ipm with 1 G acceleration. Automatic Tool Changer produces 2.5 sec chip-to-chip tool change time. Two-pallet changer machine has 15.7 in. square pallet and pallet change time of 5 sec. X, Y, Z axis strokes are 22, 24.8, and 23.6 in. respectively.
---
Original Press Release:
Mazak Introduces the New u-4800, a High Precision, High Speed 40 HP Horizontal Machining Center
Featuring a 40 HP spindle able to accelerate from zero to 15,000 RPM in 1.9 seconds, the Mazak u (Greek letter "Mu")-4800 delivers high accuracy two times better than the ISO 10791-4 standard for machining centers. The rapid traverse rates and maximum feed rate are 2,362 inches-per-minute (IPM) with 1 G acceleration. In spite of the heat generated by these high speeds, continuous high accuracy is assured with a comprehensive thermal system. The column/base, spindle/motor and axis ballscrews are constantly cooled. Temperature sensors are critically positioned to provide feedback and maintain machine stability. Submicron scales are also part of the enhanced high-accuracy system. Further, the cutting fluid and table hydraulic operating system are also cooled, making the u-4800 the most accurate machine in its class. The high-speed automatic tool changer (ATC) produces a 2.5 second chip-to-chip tool change time. Tool change capacity is 40 tools. 80 and 120-tool magazines are also available. This two-pallet changer machine has a 15.7" square pallet and a pallet change time of 5 seconds. Axis strokes are: X of 22", Y of 24.8" and Z of 23.6". The Z axis is actually a moving table. The operator pallet access door is over 36" for easy access to the pallet and workpieces. For longer unattended operations, the u-4800 can be configured with a 6-pallet changer or into a full Mazak Palletech Cell for lights-out operation. Other options for higher speed operations include 25,000 RPM spindle and high pressure coolant through the spindle. Several configurations of chip disposal can be provided depending on the need. To assure maximum chip evacuation, way covers have increased slopes and chip troughs have been made wider with spiral augers. Mazatrol Fusion 640 CNC Control Superb throughput and uptime of the u-4800 are ensured by the revolutionary new Mazatrol Fusion 640 CNC control. Its 64-bit RISC processor executes Mazatrol and EIA/ISO programs dramatically faster than 32-bit systems. The Mazatrol Fusion 640 CNC architecture fuses advanced CNC with PC technology to provide new levels of shop floor information and efficiency in real time. Shop floor programming tools include: Mazatrol interactive programming; tool libraries with cutting parameters; realistic 3D graphics for solid model part cutting and tool path simulation; and a Navigation function that optimizes cutting conditions to slash lead and setup times. Mazatrol Fusion 640 CNC can be easily networked with the rest of your operations using standard protocols. Optional Cyber Production Center (CPC) software allows communications between the office and shop floor such as program downloading to be done by an off-line PC using Mazak's Camware®, remote cycle time optimization, monitoring of machine status and production operations and scheduling to be performed while the machine is cutting. Mazak is a world leader in machine tool technology. From advanced multi-tasking machine tools, vertical and horizontal machining centers and turning centers to fully automated Palletech Manufacturing Cells and PC based CNC controllers, Mazak stresses its engineering developments to provide our customers tangible value-added benefits and the most productive machine tools available. Application assistance available from ten regional Mazak Tech. Centers. For more information, contact the Mazak Corporation at (859) 342-1700 or visit the Mazak website at www.mazak.com.
More from Communication Systems & Equipment