Machining Center handles turbine-blade cooling holes.
Press Release Summary: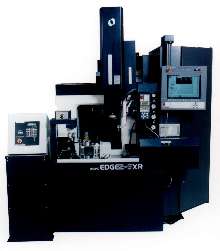 Model EDGE2S-5X, with sinker EDM technology and single tungsten-carbide electrode, uses electrode rotation and oil-based dielectric fluid. Offerings include 16-station automatic electrode changer, automatic pipe electrode guide, and MR rotating head, capable of Z-axis high-speed pulse machining at 396 ipm. Fixed table eliminates dielectric weight shift during machining, while rotary table can perform 5-axis aerospace work.
---
Original Press Release:

Makino's Edge2S-5X Provides Fast, Reliable Machining of Turbine Blade Cooling Holes


Provides EDM Solution For Aerospace Manufacturing

MASON, OH-January, 2003-The aerospace market now has an improved solution for the manufacturing and refurbishing of cooling air holes in turbine blades. Makino's EDGE2S-5X can enhance the productivity, quality and speed of this vital aerospace process through the application of sinker EDM technology.

The EDGE2S-5X is capable of EDM machining the difficult flared-hole geometry of the most advanced engine turbine blades. The technological advancements of the EDGE2-5X can help decrease product liability and scrap concerns inherent in many comb-style operations previously used for these applications.

Process Improvement
Traditionally, turbine blade manufacturers have used a comb-style brass electrode in a water-based dielectric fluid. The comb-style electrode simultaneously machined as many holes as the number of teeth on the electrode. This approach resulted in high electrode wear, poor hole quality and many scrapped turbine blades as a result of a broken electrode tooth. Such breakage also often required extensive rework. In addition, this method of production has been unable to machine the flared holes required in today's most advanced turbine blades.

The EDGE2S-5X utilizes a single, more rugged, standard tungsten-carbide electrode that can be effectively milled up to 33 percent smaller than traditional brass electrodes. The single tubular, tungsten-carbide electrode cuts up to five times faster than brass electrodes, while wear is often reduced by up to 200 percent. The EDGE2S-5X utilizes electrode rotation and an oil-based dielectric fluid as a part of the fine hole machining package to achieve these productivity gains.

The EDGE 2S-5X capitalizes on the five-axis Matsumoto tilting table and the single electrode to easily machine via a standard program macro, the flared shape of the most advanced turbine blade cooling holes. In manufacturing a 3-mm (.12-inch) thick inconel turbine blade, each flared hole can be produced in 24 seconds with 24 percent electrode wear using the EDGE2S-5X.

Makino's IES & MGH Control Technologies
The EDGE2S-5X sinker EDM is designed specifically to facilitate unattended operation for entry-level EDM technology, combining advanced performance features and rugged construction within an award winning design. Simple programming and sophisticated control technology allow Makino's Intelligent Expert System (IES) to optimize numerous machining conditions on the fly. It corrects variables that include on and off time, jumps parameters and current-providing complete control of the EDM process without any decline in machining efficiency.

The state-of-the-art MGH CNC power supply is integrated into the machine and allows full use of Makino's advanced EDM technologies. Its fine-finish circuit, along with several other standard circuits, monitors power supply and stabilizes voltage and current for exacting EDM precision.

Standard Features Promote Unattended Operation
The EDGE2S-5X is further enhanced by an array of Makino's standard EDM features that include:
o 16 station automatic electrode changer for unattended operation and improved throughput
o Automatic Pipe electrode guide, enables automatic tools changing capability of small diameter pipe electrode
o An MR rotating head capable of standard Z-axis high-speed pulse machining at 396 ipm (10 m/min)
o An automatic fire extinguisher to protect the operators, workpiece and machine
o A fixed table that eliminates dielectric weight shift during machining and improves servo reaction speed and precision
o A fifth-axis rotary table, with Auto-Coupler(TM), complements the EDGE2S-5X to give any sized shop the flexibility and versatility to perform intricate, five-axis aerospace work.

The EDGE2S-5X features 12 x 10 x 10 inch (305 x 254 x 254 mm) travels and weighs a sturdy 6,000 pounds (2,700 kg). This heavy-duty construction, combined with the fixed table, brings high levels of rigidity to every application.

Makino's award-winning drop tank design improves many aspects of the EDM process, as the retractable tank walls provide wide-open table access for safe, simple slide-on loading and faster, more accurate setups. And the adjustable tank depth allows optimal matching of dielectric fluid level to workpiece size for overall dielectric savings.

Makino is a global provider of advanced machining technology and application support for the metalcutting and die/mold industries, dedicated to driving out more costs from your manufacturing operation than any other competitive machine tool manufacturer. Makino manufacturing and service centers are located in the United States, Japan, Germany, Singapore, Italy, France, Korea, Taiwan, China, Mexico, Brazil, and India, and are supported by a worldwide distributor network. For more information call 1.800.552.3288, or visit Makino on the Web at www.makino.com.

More from Mechanical Power Transmission