Machines provide deep engraving and laser marking.
Press Release Summary: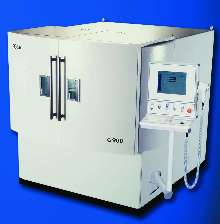 Series G laser engraving systems handle all hardened tool steels, graphite, and non-ferrous materials, producing ultra-fine 3D contours in single process. Model G10 is intended for workpieces up to 100 kg, while Model G900 accommodates loads up to 400 kg. Equipped with choice of lasers, Vario Series, Class 1 laser systems offer marking field of 110 x 110 mm. They are equally suitable for processing high product mixes in fixtures and trays or large production runs.
---
Original Press Release:
Virtek Brings New Breed of FOBA Laser Marking and 3D Deep Engraving Systems to IMTS 2004

WATERLOO, ON, June 30, 2004 - Virtek, a leading developer of precision, laser-based solutions for industrial applications, will display a FOBA G-Series 3D deep engraving system and FOBA Vario Series laser marking system in the Lasers Pavilion at IMTS, September 8 - 14, 2004, booth number B-6319.

Virtek's turnkey FOBA laser systems use high-quality, solid-state lasers manufactured in the company's FOBA Germany facility. Excellent beam quality and a special, integrated hatching process optimize marking clarity and consistency and increase marking speeds. These FOBA-engineered systems also have advanced beam steering ability for best resolution and repeatability.

G-SERIES

The G-Series laser machining centers are designed to engrave 2D and 3D features on complex curved surfaces. Applications include engraving and marking of tool molds, blow molds, mold inserts, erosion electrodes, stamping and printing dies, as well as decorative engraving and surface finishing.

G-Series laser engraving systems incorporate FOBA's advanced laser engraving technology into an efficient, Class I environment. They process all hardened tool steels, graphite or non-ferrous materials, including ceramics, and produce ultra-fine 3D contours in a single process - without the need for re-tooling or re-setting.

Designed for use with work pieces up to 100kg, the G10 is equipped with three AC servomotors as standard, enabling movements of 300mm on the x- and y-axes and 500mm on the z-axis. Expansion to a fourth, rotary axis is available as an option, opening the door to 3D engraving capabilities.

The G900, the larger machine, accommodates loads of up to 400 kg. In addition to the three main axes (900 mm in the x-direction, 400 mm in the y-direction, 500 mm in the z-direction), fourth and fifth axes are also available as a turn/swivel unit.

An optional cylinder engraving unit can be fitted to both the G10 and G900. This unit turns the work piece during processing and allows the laser to achieve a constant engraving depth over the whole circumference because the laser spot is always within the focal range of the lens. Equipped with a precision AC servo motor and a three-jaw chuck, the cylinder engraving unit clamps work pieces up to 80mm in diameter and processes engraving areas up to 100mm in length in one step. Existing engraving machines can be upgraded with this optional accessory.

VARIO SERIES

Vario is a versatile, turnkey, Class 1 laser marking system that is equally suitable for processing high product mixes in fixtures and trays or large production runs. The Vario's robust, modular design and compact footprint - 68 x 35 x 63 inches or 172 x 88 x 159cm (length x width x height) - mean it can be customized for almost any manufacturing environment and marking application.

Vario is equipped with a choice of lasers. The customer's application dictates the selection of the appropriate laser, which means Vario can handle everything from the simplest, high-speed surface-marking application to the high-power engraving of metals. A marking field of 110mm x 110mm is standard and can be enlarged to 290mm x 290mm with the use of an optional, interchangeable lens.

The system is available as a stand-alone unit or for integration into automated production lines. In addition to standard part height adjustment the Vario can be configured for shop-floor deployment with options for front- or side-loading modules, fixed worktable or rotary table with turning bulkhead wall. Virtek's FOBA engineering team also develops customized part handling solutions for optimal processing efficiency.

The ergonomic design of the Vario workstation enables maximum efficiency and productivity. The rotary table and quick-change tooling result in short cycle times. Product handling and positioning are made easy with the system's program-controlled Z-axis. The optional Z-axis extension enlarges the usable marking area and permits the marking of oversize components. Vario's air filtration system guarantees the safe removal of vaporized plastic, metal or paint particles for an environmentally friendly manufacturing process.

ABOUT VIRTEK

Virtek is a leading provider of precision laser-based templating, inspection, marking and engraving solutions for industrial material processing. The majority of the Company's sales are in the United States and Europe. Virtek maintains offices in Waterloo, Ontario, Canada; Lee's Summit, Missouri and Boston, Massachusetts, USA; L|denscheid and N|rnberg, Germany and Ebina City, Kanagawa, Japan.

FOBA's instruments include OEM marking systems for integration into machines and manufacturing lines, turnkey laser marking and engraving units and deep engraving systems.

Please visit www.virtek.ca for more information.
More from Material Handling & Storage