Machine Vision System creates applications without programming.
Press Release Summary: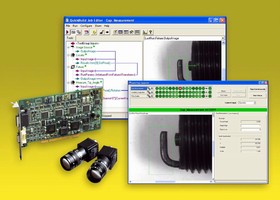 VisionPro® facilitates development of PC-based machine vision solution for automated inspection and quality assurance applications. QuickBuild environment defines image acquisition, vision tools, and accept/reject criteria, while optional scripting extends it without programming entire application. Communications explorer sends inspection results to I/O lines and communication devices and application wizard generates runtime application with operator interface.
---
Original Press Release:

Cognex Accelerates Vision Application Development



Natick, MA, May 31, 2006-Cognex Corporation (NASDAQ - CGNX), the world's leading supplier of machine vision systems and sensors, today announced significant new features to the popular VisionPro® machine vision systems, that accelerate the development of PC-based machine vision solutions for the most challenging automated inspection and quality assurance applications.

"VisionPro's new interactive tools make it fast and easy to evaluate, implement, and deploy multi-camera applications completely without programming," said Marilyn Matz, Cognex Senior VP, PC Vision. "With VisionPro, customers can maintain the power and flexibility of a fully programmable PC vision system, yet significantly reduce setup time and development cost. VisionPro provides a vision development environment with something for everyone...interactive drag and drop, .NET scripting, and a full programming toolkit."

VisionPro now offers a complete set of interactive tools for creating vision applications without programming:
o The QuickBuild environment quickly defines image acquisition, vision tools, and accept/reject criteria.
o The Communications Explorer sends inspection results to input/output lines and communication devices, such as PLCs or reject mechanisms.
o Optional Scripting extends QuickBuild without programming the entire application.
o The Application Wizard automatically generates a runtime application with an operator interface in a matter of minutes.

"VisionPro allows integrators to better leverage their industry and application knowledge by quickly developing applications and seamlessly integrating their own custom tools," said Ross Rawlings, President & CEO of Radix Controls, a systems integrator based in Windsor, Ontario. "With VisionPro we can more easily tailor application-specific solutions to end-user specifications, exposing only the functionality required for configuring and monitoring runtime operation."

VisionPro is the PC-based system of choice for system integrators, machine builders, OEMs, and advanced manufacturing engineers. In addition to rapid application development, VisionPro also provides industry leading vision tools, and supports a wide range of acquisition hardware to offer an extensive range of price/performance options for virtually all types of image capture.

VisionPro 4.1 is currently available, and will be continually enhanced with new productivity tools throughout 2006.

About Cognex
Cognex Corporation designs, develops, manufactures, and markets machine vision sensors and systems, or devices that can "see." Cognex vision sensors are used in factories around the world to automate the manufacture of a wide range of items and to assure their quality. Cognex is the world's leader in the machine vision industry, having shipped more than 300,000 machine vision systems, representing over $2 billion in cumulative revenue, since the company's founding in 1981. In addition to its corporate headquarters in Natick, Massachusetts, Cognex also has regional offices and distributors located throughout North America, Japan, Europe, Asia, and Latin America. Visit Cognex on-line at www.cognex.com/.

For Reader Service Inquiries, please publish the following contact information:
Tel. (Toll Free): 1-877-COGNEX1 (1-877-264-6391) Internet: www.cognex.com
MEDIA CONTACT:
John Lewis
Public Relations Manager
Cognex Corporation
Phone: (508) 650-3140
Email: john.lewis@cognex.com

More from Communication Systems & Equipment