Machine offers automatic form and roughness measurement.
Press Release Summary: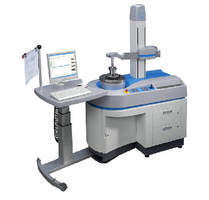 Featuring dual-tip scanning system and ±1,500 µm measuring stroke, Hommel-Etamic Roundscan permits automatic measurement of form and roughness in one pass. System can handle parts up to 540 mm dia, 900 mm in height, and up to 100 kg. Positioning probe tip anywhere on workpiece, CNC-controlled rotation and tilt module guarantees measurements can be made automatically at any measurement position. Low friction guides on measuring axes also enable profile and waviness parameters to be evaluated.
---
Original Press Release:

Automatic Form and Roughness Measurement in One Pass



New multi-function measuring system

Hommel-Etamic, Rochester Hills, MI, introduces the Hommel-Etamic Roundscan, a specially developed scanning system that combines automatic measurement of form, cylindricity and roughness characteristics in one measuring instrument. As part of the company's advanced measurement technology development, it also recently introduced nanoscan, a contour and roughness measuring system. Together, nanoscan and roundscan create a new range of instruments for industry that reduces measuring cycle times and provides high accuracy results.

Very small parts such as injector components or valves, to large, heavy work pieces such as disc brakes, hydraulic components or crank shafts can be measured with an extremely high degree of accuracy. Hommel-Etamic Roundscan can handle parts up to 540mm diameter, 900mm in height and a maximum weight of 100 kg.

"The need to economically measure the increasingly tighter form and position tolerances of workpieces and the influence of surface roughness on the functionality of components have driven the development of the Hommel-Etamic Roundscan," said a company spokesman.

The measuring axes of Hommel Etamic form measuring instruments are equipped with high-precision, low friction guides so that profile and waviness parameters can be evaluated in addition to roughness parameters. A useful combination, for example, is determining roundness and straightness as well as the Rz value and the linear free forms in connecting rod diameters.

An additional advantage is the large measuring stroke of the scanning system (±1500 µm) which possesses excellent linearity over its whole measuring range without sacrificing resolution. This enables measurements on irregular workpiece geometries.

Typical form and roughness systems utilize different probe tips to complete both measurements, whereas the Hommel-Etamic Roundscan contains an innovative dual tip scanning system that permits both characteristics to be measured in one pass. In addition, Hommel-Etamic Roundscan electronically controls the measurement ensuring correct measurement force of the probe tip on the workpiece surface.

For close-to-production applications, an active dampening system and adapted housing are available. In addition, an extensive range of accessories including probe arms are available for specific applications. Special solutions for measurement of pistons, connecting rods, crank shafts, gear shafts, brake discs or valves are available.

CNC-controlled axes ensure reduced measuring times. In addition, Roundscan's new drive system automatically centers and levels the work piece with high speed helping decrease measuring times even more. All of the above, combined with high positioning accuracy of the axes, helps guarantee excellent repeatability and reproducibility of the measurement results.

A CNC-controlled rotation and tilt module positions the probe tip anywhere on the workpiece and guarantees that form or roughness measurements can be made automatically at any measurement position without operator intervention.

Optional linear scales in the axes allow measuring scanning operation. This allows evaluation of heavily tilted conical forms.

Hommel-Etamic Roundscan measuring systems are available in different versions, depending on the application or measuring task. The system is designed for ergonomy, utilizing a rotating and height adjustable work areas.

Standard evaluation of roughness and form

Hommel Etamic's TURBO FORM evaluation software evaluates roundness, cylindrical form and flatness, plus all common roughness, profile and waviness parameters. During continuous monitoring of the production process, the measurement results can be transferred via qs-STAT interface to a central statistics server.

The integrated programming helps guide the operator clearly and simply through all the necessary steps. The user interface can be adapted to individual requirements at any time and complex settings can also be made.

In addition, TURBO FORM offers a unique CNC functionality. For example, it is possible to have other actions such as "measure again" or "print" executed automatically in the tolerance test depending on the measurement result. The activities can also be executed manually simply by pressing a button. The buttons can be assigned user-specific functions within the measuring program.

Hommel-Etamic America

1505 West Hamlin Rd., Rochester Hills, MI 48309 Tel. 1-248-853-5888 www.hommel-etamic.com email: us_info@hommel-etamic.com

More from Machinery & Machining Tools