Machine Control suits marking systems applications.
Press Release Summary: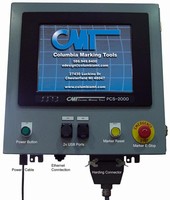 With features and remote troubleshooting capabilities specific to part marking and vision reading applications, PCS-2000 works with dot-peen, laser, and scribe marking machines. On-screen video programming, displayed on 15 in. LCD monitor with 1,024 x 768 pixel resolution and touchscreen keyboard, shows operators how to input or change marking information. Product is preloaded with Windows® XP Professional and additional software designed for specific marking applications.
---
Original Press Release:

Columbia Marking Tools, Inc. Introduces New PCS-2000 Control for Application with Columbia Marking Systems



In an effort to provide a machine control that has the specific features that are important to users of marking machines, Columbia Marking Tools has introduced the PCS-2000, a machine control of their own design.

Tim Ryder, Columbia Marking Tools, Inc. technical service manager says, "Columbia Marking Tools tackled the "age old" high-tech operator fears by realizing the most common technical/service questions. With industry moving towards increased use of 2D matrix codes that require marking equipment to be integrated with electronic cameras for mark verification, we found it necessary to develop our own control with the kind of features and remote troubleshooting that are specific to part marking and vision reading. This PCS-2000 control is now the Columbia standard for all dot-peen, laser and scribe marking machines and integrated or stand-alone systems. We answered the need by developing a control with on-screen video programming that actually shows operators how to input or change marking information. It's like having you own personal training class available at any time you need it. The software shows the operator how to enter date codes, serial numbers, change the text location or the orientation of the mark and numerous other useful features. "

The PCS-2000 utilizes an Intel® Celeron 2.0 gigahertz processor with 256 megabytes of PC2700 DDR Ram and 30 gigabytes of available storage. The 15-in. LCD monitor has 1024 x 768 pixel resolution and a touch-screen keyboard eliminating the need for a conventional plug-in keyboard. The monitor and processor are mounted in a standard Nema 12 enclosure with a cooling system that is designed to work in typical high-temperature shop environments, with real-time system monitoring software.

The PCS-2000 is preloaded with the Windows® XP Professional operating system. Additional Columbia 2D and human-readable UID/ Square ◙ Dot® and Cognex Vision(TM) software that is designed for the specific marking application is also preloaded. In addition, pcAnywhere® software is provided, allowing Columbia Marking Tools to connect directly to the PCS-2000 control via the internet from the Service Office at Columbia Marking Tools for fast and secure troubleshooting, programming assistance, software upgrades, and even making adjustments to the cameras used on UID/ Square ◙ Dot® scribe marking machines. This remote management feature allows the user to directly access vital operating system utilities such as Command Prompt, Task Manager, and Services on the host computer. Other remote management capabilities include Change System State (restart, shut down or lock system), View Installed Applications, View Event Log, Edit System Files and Edit Registry. Easy wizard tools take the user through the setup and operation of the pcAnywhere software.

Columbia Marking Tools is a leading designer and manufacturer of metal and plastic
marking equipment including stamps, roll marking dies, roll marking and impact marking machines, fully programmable peen/scribe marking and UID/ Square ◙ Dot® scribe marking machines, numbering heads and special marking machines.

Send inquiries to:
Sales and Marketing Department
Columbia Marking Tools,
27430 Luckino
Chesterfield Township, MI 48047
Telephone (800) 469-MARK
FAX (586) 949-8401
Email: tjp@columbiamt.com

More from Materials