Machine Control Software helps minimize downtime.
Press Release Summary: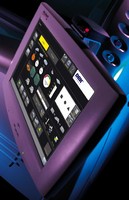 Designed to optimize process control, operator efficiency, and machine utilization, Instinctiv(TM) v9 features UI that incorporates control of HawkEye(TM) post-print inspection technology to facilitate and accelerate paste on pad verification. HawkEye operates at line beat rate, delivering go/no-go indication for each board and isolating faulty boards in real-time. Paste on pad deposit percentages are displayed on set-up bar chart, with variable window, within process.
---
Original Press Release:

DEK's New Instinctiv(TM) V9 Software Advances with HawkEye(TM) Control



First unveiled at the end of 2007 during Productronica, DEK's Instinctiv(TM) V9 machine control software has now added more functionality since its initial debut. The award-winning user interface now incorporates enhanced control of its revolutionary HawkEye(TM) post-print inspection technology, making paste on pad verification even faster and easier.

Designed to optimize process control, operator efficiency and maximize machine utilization, DEK's Instinctiv V9 user interface is the industry's premiere operational control tool. Intuitive and easy-to-use, Instinctiv V9's simple touch-screen control and visual reference of process conditions makes running advanced machines less complex. The next-generation of the software broadens the proven benefits of the previous system to deliver faster set-up and first time print, easier error avoidance and recovery, further reduce operator training requirements and offer easier command and control. All of these enhancements combine to raise productivity levels and, ultimately, reduce manufacturing costs.

Now with the ability to manage DEK's award-winning HawkEye post-print inspection technology along with a host of other performance options, Instinctiv V9 has become an indispensable manufacturing tool. The speed and performance of HawkEye allows manufacturers to have a best of the best scenario, enabling post-print verification of every board as opposed to an every nth board routine as with other inspection systems. HawkEye operates at the line beat rate, delivering a go/no-go indication for each board and isolating faulty boards in real-time. The addition of Instinctiv V9 control translates to even better HawkEye efficiency and process optimization.

"Both HawkEye and Instinctiv V9 are powerful technologies in their own right," comments Karen Symons, DEK's Software Team Leader. "As a duo, the combination is an untouchable solution from a control and process verification point of view."

New functionality includes SPC outputs in real-time to provide essential process analysis, enabling intervention prior to failure so as to eliminate costly downtime. In addition, paste on pad deposit percentages are easily displayed on the set-up bar chart with a variable window within the process clearly displayed. The system is also capable of identifying the pad exhibiting the lowest paste volume for each HawkEye area, which allows operators to evaluate print trends and prevent yield reductions or serious line stoppages.

"As processes and applications become more complex and demanding, the tools required to run them need not follow suit," concludes Symons. "The Instinctiv V9 and HawkEye combination is the ultimate in optimized - yet simple - process control."

About DEK
DEK is a global provider of advanced materials deposition technologies and support solutions including printing equipment platforms, stencils, precision screens and mass imaging processes used across a wide range of applications in electronics pre-placement subassembly, semiconductor wafer manufacture, and alternative energy component production. For more information, visit DEK at www.dek.com

Company Contact
Press Contact
Karen Moore-Watts
DEK Laura Sims
for DEK
Tel: +44 1305 760760
Email: kmoore-watts@dek.com
Internet: www.dek.com
Tel: 404-661-0348
Email: laura@simscomm.com

More from Services