Machine Control operates injection molding machines.
Press Release Summary: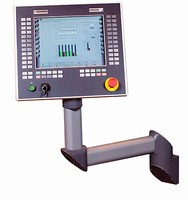 Mosiac control consists of 15 in. TFT touchscreen display with keyboard mounted on swing arm. Sealed to IP65, panel is driven by industrial computer with 600 MHz Celeron processor and 1 GB flash drive for data storage. Control provides 5-stage extrusion profiling with graphical setup, 10-stage injection profile and 10-stage pack and hold with real-time graphing, simultaneous monitoring of 16 user-selectable process parameters, and process graphics with 13 time/position-based graphs.
---
Original Press Release:
A Setup Person's Dream - New Mosaic Control Debuts On Cincinnati Milacron Injection Molding Machines
Optional on extrusion machines, Mosaic provides ideal setup ergonomics with screens for data, pushbuttons for machine movements, and wizards that make any user a master. May 2006 - Milacron's new global control for injection molding machines will debut in the U.S. at NPE on Cincinnati Milacron injection molding and extrusion machines in the booth, as well as on demonstration panels in the Technology Center and throughout the booth. The new Mosaic control reflects "voice of the customer" design, especially the voice of the setup person, according to Marketing Director Bob Strickley. "From the ergonomics to the screen icons, this control is everything a setup person could want," Strickley said. "The ergonomic design accounts for line-of-sight positioning of the display for eyeglass wearers and easy positioning for optimum view of the mold area, as well as physical separation between data entry and machine-movement buttons. On the interface side, the graphics use intuitive icons, color and text for a logical appearance. Any screen can be reached in one or two touches and a permanent status bar at the bottom of the screen constantly displays critical machine parameters. It's the next best thing to a heads-up display. "And the setup screens complement all this with programming wizards based on input from injection set-up specialists around the world, making the control almost human-proof." "Just because it's easy to use, doesn't mean that the Mosaic control is limited in its functionality," added Mike Litten, manager of controls development. "We've enhanced the injection setup capabilities to include more fill stages, plus the ability to transfer each stage on multiple parameters. The clamp setup now includes up to 6 closing stages, including 3 for mold protect, and up to 5 opening stages - all user selectable. If a mold only requires a couple of injection stages, only those stages need to be set. The unneeded parameters aren't even seen." The operator station consists of a thin-profile industrial 15" TFT touchscreen display that is surrounded by a keyboard and mounted on a swing arm. Sealed to IP65 (dust and sprayed water), the panel is driven by an industrial computer with a 600 MHz Intel Celeron processor and a 1GB flash drive for data storage, so no hard drive or uninterruptible power supply is required. Operator buttons are arranged logically to correspond to machine functions, and there are provisions for additional hardwired buttons, if needed, to eliminate need for secondary panels. Digital linear position feedback devices are used for accuracy and repeatability, providing resolution of up to 0.0015". Two USB ports and an Ethernet port are available for network communications and data upload/download. The control has an integral web server, allowing remote viewing of machine status over a network using any standard browser. Machine data can be viewed on demand across a Local Area Network for purposes of production monitoring or process troubleshooting. The Mosaic control includes multi-lingual support and selectable English/metric units. Context sensitive help is just a soft key press away, i.e., if the operator is setting injection parameters, the help menu for injection is front and center. A set point overview page displays all critical setpoints on a single page, and tabbed pages allow rapid navigation through all functions. Direct group access keys speed machine setup. Once set up, mold data can be saved locally on the control, to a USB memory stick, or to a network drive. The control provides 5-stage extrusion profiling with graphical setup, 10-stage injection profile and 10-stage pack and hold with real-time graphing, simultaneous monitoring of 16 user-selectable process parameters, and process graphics with 13 time/position-based graphs that include cursor and zoom control. Other helpful features include multi-level access control for 20 operators, mold data storage with data comparison, sticky notes, change log of last 200 setpoint changes with tracing information, fully configurable I/O and I/O diagnostics, and SPC tracking of 16 selectable parameters for last 100 shots. The Mosaic control is standard on all new Cincinnati Milacron injection-molding machines, and is now available as a no-cost option on Cincinnati Milacron twin-screw extruders and for additional cost on single-screw machines. To see the full range of Milacron plastics processing technologies, visit plastics.milacron.com on the web. Sales inquiries from the NAFTA region should be directed to: Mr. Robert J. Strickley Director of Marketing Milacron Inc. 4165 Halfacre Rd. Batavia, OH 45103 Tel: 513.536.2576 Fax 513.536.2441 bob_strickley@milacron.com In Brasil, direct inquiries to: Mr. Hercules Piazzo Milacron Equipamentos Plasticos Ltda. Avenida Moemo 87 - 6th Floor Moemo - 04077-020 São Paulo - SP - Brasil Tel.: (+5511) 5051-1838 - Ext. 107 Fax.: (+5511) 5055-1905 Hercules_Piazzo@Milacron.com In the Caribbean, Central and South America, direct inquiries to: Michael Ferlic Milacron Marketing Company 306 Poinciana Island Drive Sunny Isles FL 33160 USA Tel/Fax: 305-945-6707 michael_ferlic@milacron.com For information on injection molding technology from other Milacron regions, contact: For Germany, Europe & ROW Ferromatik Milacron Maschinebau GmbH Julia Andris Riegeler Strabe 4 79364 Malterdingen Germany Phone +49 (0)7644 78-302 Fax +49 (0)7644 78-469 E-Mail marketing@ferromatik.com For India Ferromatik Milacron India Limited Umesh Pareek 92, Phase-1,G.I.D.C. Vatva, Vatva, Ahmedabad - 382 445 India Phone +91-79-2583-0063 Fax +91-79-2583-0125 E-Mail umesh-pareek@fmi-ahd.com For China David Song Milacron Marketing (Shanghai) Co. Ltd. No. 900 Jin Hai Road Pu Dong, Shanghai 201206 P.R. China Tel: +86-21-583-41588 Fax: +86-21-589-98011 David_Song@milacron.com.cn
More from Electrical Equipment & Systems