M2-Series Loaders offer uptime protection for operators.
Press Release Summary: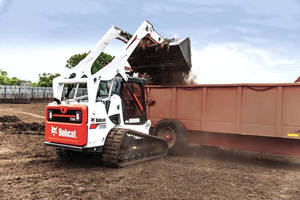 Offering 24 skid-steer with compact track and all-wheel steer models, M2-Series loaders come in 400-, 500-, 600-, 700- and 800-frame-size. Features enhanced automatic ride control option, reversing fan option to clear dust and dirt, and lift cylinder cushioning for operator comfort. Products come with front and rear cab isolators, door seals and side screen dampers. Available in optional side lighting kit with 800 lumens per side to improve visibility.
---
Original Press Release:
New M2-Series Loaders Offer Performance, Comfort and Visibility Enhancements
This fall, Bobcat Company is expanding on the popularity of its current M-Series loaders by introducing the new M2-Series skid-steer, compact track and all-wheel steer loaders.

M2-Series compact loaders offer a variety of performance, operator comfort and visibility enhancements to help increase operator productivity and provide enhanced uptime protection. The M2-Series lineup includes Bobcat® 400-, 500-, 600-, 700- and 800-frame-size skid-steer, compact track and all-wheel steer loaders. Altogether, the M2-Series includes 24 skid-steer, compact track and all-wheel steer models.

Enhanced automatic ride control option For added convenience, Bobcat compact loader operators can now turn the automatic ride control option on or off from inside the cab for added convenience. Previously, the ride control option could be turned on or off using a valve that was accessed by opening the loader's tailgate.

Operators can press a switch to toggle between auto and off. When the auto mode is selected, the system will work at any travel speed. The ride control function is automatically activated by detecting increased hydraulic lift arm pressure when the loader is carrying material. It will deactivate when hydraulic lift arm pressure is reduced — such as when there is no load in a bucket. In addition, operators have the ability to turn it off for tasks such as back dragging.

Automatic ride control reduces material spillage, allowing operators to travel at faster speeds for increased productivity. Thanks to its dampening effect, the option also increases comfort by offering a smoother ride, and is optimized for each Bobcat loader frame size.

Reversing fan option clears debris

A new reversing fan option available for M2-Series loaders allows operators to temporarily reverse the cooling fan direction — for several seconds — to blow dust and small debris from the radiator and rear screens. This M2-Series loader option helps minimize downtime and can reduce the cooling area cleaning frequency. Operators can choose from the following three operating modes:

• Automatic: Reverses fan direction at a regular frequency to keep the loader's engine coolant and hydraulic oil at proper operating temperatures

• Manual: Purges material at the operator's discretion

• Off

Cab design enhances comfort

M2-Series loaders have been improved to increase operator comfort thanks to new front and rear cab isolators, door seals and side screen dampers. These design elements reduce noise, vibration and dust inside the loader cab. Also, a new lift cylinder cushioning feature slows down the loader arms before they reach the lift arm stops for smoother movements and increased operator comfort.

Another operator comfort enhancement that is a standard feature for 600- and 700-frame-size M2-Series loaders is a low-effort hydrostatic pump. The new pump reduces drive lever effort by as much as 25 percent. Bobcat compact loaders equipped with standard controls or the Advanced Control System (ACS) use this new pump, which will help decrease operator fatigue, especially when operators are in the loader for an extended amount of time.

Side lighting kit option improves visibility

If operators are completing projects at night, such as snow removal or road construction, a dealer-installed side lighting kit is useful to increase visibility. The LED light bars are mounted to the top of the M2-Series loader cab on the right and left sides. The lights are well protected, have 800 lumens per side and produce a bright white light. Operators can switch the side light bars on or off with a simple press of a button in the loader cab. Note: The side lightning kits are not currently available for S450 skid-steer and T450 compact track loaders.

Also improving visibility is a redesign of the top window of the loader's cab. The redesign improves operator visibility with a 34 percent increase in viewable area. This is beneficial when loading material into a high-sided truck or silage into a mixer. In addition, the new design allows for easier top window cleaning, and still meets all of the safety standards for ROPS and FOPS.

S850 gets horsepower boost to 100

M2-Series S850 skid-steer loaders now come standard with 100-horsepower Bobcat engines, a 9 percent increase from the prior iteration. The horsepower boost provides increased attachment performance in demanding applications, including operating high-flow auxiliary hydraulic attachments such as forestry cutters, planers and snowblowers. It also delivers more power to operate high-flow auxiliary hydraulic attachments at higher ground speeds during attachment operation, increasing operator productivity.

New decals

Last but not least, M2-Series loaders feature new, larger model decals for improved readability. Larger decals can more easily be seen from a distance to help identify model numbers, which can be useful on large jobsites or areas where multiple loaders are working.

Bobcat diesel engines

Every M2-Series loader is powered by a Bobcat diesel engine that is engineered to work perfectly with the rest of the machine. It features a non-DPF design for simple operation, panoramic serviceability, better fuel efficiency and less engine noise.

ABOUT BOBCAT COMPANY

Bobcat Company, headquartered in West Fargo, N.D., is a worldwide leader in the manufacturing and distribution of compact equipment. Bobcat compact equipment includes skid-steer, all-wheel steer and compact track loaders; compact excavators; mini track loaders; VersaHANDLER® telescopic tool carriers; utility vehicles and Toolcat™ utility work machines. Bobcat is a global brand with more than 550 dealer locations in North America and the leader in compact equipment — the industry's original innovator, beginning more than 50 years ago with the first compact machine and predecessor to the skid-steer loader. Bobcat is a Doosan Company. For more information on Bobcat products, visit Bobcat.com.

Certain specification(s) are based on engineering calculations and are not actual measurements. Specification(s) are provided for comparison purposes only and are subject to change without notice. Specification(s) for your individual Bobcat equipment will vary based on normal variations in design, manufacturing, operating conditions, and other factors.

For more information, contact:
Michael TenClay — Two Rivers Marketing
michaeltc@2rm.com
(515) 557-2069
More from Material Processing