M-Bus System helps users optimize energy consumption.
Press Release Summary: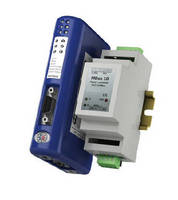 Consisting of M-Bus converter and Anybus Communicator gateway, M-Bus System enables communication between M-Bus and any industrial network. Transparent M-Bus converter, working as M-Bus master, converts M-Bus signals to RS232 and enables connection of up to 10 standard M-Bus slave devices. Configured using included Windows-based software, Anybus Communicator translates RS232 signal to chosen fieldbus or Industrial Ethernet network. Typical applications include electricity, gas, and water metering.
---
Original Press Release:

New M-Bus Solution from HMS Allows Users to Optimize Energy Consumption



HMS now releases a solution which enables communication between M-Bus and any industrial network.

M-Bus is a widely used standard for measuring devices such as electricity meters, gas meters, water meters etc. Getting data from these devices onto an industrial network enables plant owners to get better control of their total energy consumption and streamline operations.

M-Bus (Meter-Bus) is a standard for remote reading of measuring devices. It is predominantly used in buildings, for example in electricity meters, gas meters, water meters or other types of consumption meters. By getting data from these measuring devices onto a PLC or SCADA system, industrial plant owners can get a total overview of their energy consumption, including building parameters which previously had to be
checked separately.

Making energy savings possible

"We see a substantial market for this solution," says Niklas Selander, Product Manager at HMS. "Many industrial companies are currently trying to optimize their energy consumption. Their production lines are often connected to some kind of industrial network, but building parameters such as electricity, water, gas etc. are usually monitored on separate M-Bus systems. With our new solution, we enable plant owners to get all consumption data onto their network of choice which enables them to analyze and optimize their energy usage."

How it works

The solution consists of two parts: Firstly, a transparent M-Bus converter which converts the M-Bus signals to RS232. The converter works as M-Bus master and enables connection of up to 10 standard M-Bus devices (slaves). The second part is an Anybus Communicator gateway which translates the RS232 signal to the chosen fieldbus or Industrial Ethernet network.

The solution enables M-Bus devices to connect to:

o CANopen

o CC-Link

o ControlNet

o DeviceNet

o EtherCAT

o EtherNet/IP

o FIPIO

o Interbus

o Modbus Plus

o Modbus TCP

o Modbus RTU

o PROFIBUS

o PROFINET

The Anybus Communicator is configured using a Windows-based software which is included with the product. This means no programming is required to configure the connection between M-Bus and the desired industrial network. Once the configuration is made for one network, it is easy to re-use to create connections to other networks.

About Anybus Communicator

The Anybus Communicator is a family of protocol converters that connect industrial devices to all major industrial networks. The Communicator is capable of converting almost any standard or user specific proprietary protocol without the need for any hardware or software changes. The connection is configured in a PC-based configuration software without any programming needed.

HMS Industrial Networks is the leading independent supplier of embedded network technology for automation devices. HMS develops and manufactures solutions for interfacing automation devices to industrial networks. Development and manufacturing takes place at the head office in Halmstad, Sweden.

Local sales and support is provided by the HMS branch offices in Chicago, Beijing, Karlsruhe, Milan, Mulhouse and Tokyo. HMS employs over 240 people and reported sales of Euros42.5 million in 2011. HMS was formed in 1988 and is listed on the NASDAQ OMX Nordic Exchange in Stockholm in the category Small Cap, Information Technology with ISIN SE0002136242.

More from Software