LVDT Signal Conditioner operates from 24 Vdc.
Press Release Summary: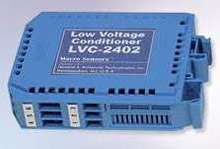 Suited for factory locations where space and power sources are limited, single-channel, DC-operated model LVC-2402 operates from 24 Vdc. Unit offers three user-selectable analog outputs: 0 to ±10 Vdc, 0 to 10 Vdc, or 4 to 20 mA current output in 3- or 4-wire current loop configuration. Input power is fully isolated from analog outputs, and LVDT excitation frequency is available as 3, 5, or 10 kHz. External zero control permits output offset adjustments.
---
Original Press Release:

New Low Voltage Signal Conditioner Ideal Where Space and Power Sources Are Limited


Pennsauken, NJ, March 13, 2003...Macro Sensors, a manufacturer of innovative linear and rotary position sensors, and related instrumentation, introduces a new Single Channel LVDT Signal Conditioner ideal for use in automation applications with PLCs and mini-PLCs.

Operating from 24V DC, the LVC-2402 DC-Operated LVDT Signal Conditioner works in factory locations where space and power sources are limited. Designed to support any standard LVDT, this low-cost signal conditioner offers three user-selectable analog outputs including: 0 to ±10V DC, 0 to 10V DC or 4-20 mA current output in a three- or four-wire current loop configuration. Unlike other 24V LVDT signal conditioners, the 24V DC input power of the LVC-2402 Signal Conditioner is fully isolated from its analog outputs, enabling its connection in either a 4-wire isolated I/O configuration or in a 3-wire common ground system in which the power ground is connected to the output signal's ground.

Other significant features of the LVC-2402 LVDT Signal Conditioner include:

o The LVC-2402 does not require a phase adjustment control, enabling its operation with longer cables that connect it to an LVDT.

o The LVC-2402 provides LVDT excitation frequency in a choice of either 3, 5 or 10 kHz.

o External zero control permits output offset adjustments from -100% to +100% of full scale output. Adjustments are non-interactive.

Compact in size at just 0.88" wide x 2.95" high, all internal components of the LVC-2402 are fully enclosed in a tough polymide housing. The DIN rail mountable housing easily integrates with PLCs, timers, circuit breakers and other DIN rail mounted modules. The LVC-2402 LVDT Signal Conditioner also supports multi-channel applications by permitting the synchronization of all unit oscillators within a system.

Pricing for the LVC-2402 begins at $305 per unit, with significant quantity discounts. For additional information, please contact Eileen Ellis at 856-662-8000/email: sales@macrosensors.com or visit our web site at www.macrosensors.com.

U.S. Route 130 North, Bldg. 22, Pennsauken, NJ 08110-1541
Tel: 856-662-8000 Fax: 856-317-1005

More from Electrical Equipment & Systems