Luxury Hotel in Turkey Protected by State-of-the Art Fire Detection System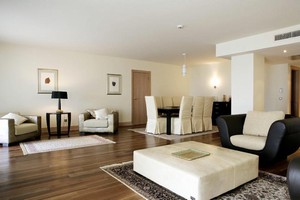 Bosch's detector and LSN technology employed to the full

o Five-star hotel equipped with optimally reliable fire detection system
o Local SecurityNetwork technology ensures maximum site protection
o Integrated fire panels for efficient surveillance and control

A comprehensive, state-of-the-art fire detection system from Bosch Security Systems is installed in the Kempinski Hotel The Dome in Turkey. Opened in 2005, the luxury hotel is located on the Mediterranean coast near the ancient harbour city of Antalya. The fire detection system, installed during the building of the hotel, comprises detectors from Bosch's well-proven 400 and 500 Series and Universal Fire panels of the type 2000 Series LSN (Local Security Network) with associated interface, alarm and control equipment.

Flush-mounted 500 Series automatic smoke detectors are installed in the hotel's Royal Suite, the General Manager's office and the automation control room ensure unobtrusive protection and do not disturb the ambient's aesthetics without compromising safety requirements. These detectors operate on the scattered-light fire detection principle with dual detection areas that ensure an extremely high level of reliability. The 400 Series smoke or heat detectors in the hotel's 157 guest rooms, public areas and 18 private villas complement the high standard of these sumptuous premises. A total of 1092 detectors are installed throughout the complex and are connected through Bosch's Local Security Network (LSN) to three Universal Fire Panel 2000 Series located in the automation room.

Bosch's LSN is a freely configurable bus security system that offers a wide choice of fire, intrusion and malfunction detectors, operator units and arming devices from multiple manufacturers. The system in use at the Kempinski Hotel The Dome is configured in a loop set-up providing automatic component identification and address assignment support. The system also allows easy connection of additional detectors if required.

The three compact 2000 Series LSN fire panels are configured in a System Ring Technology (SRT) network to providing 24/7, highly reliable and malfunction-tolerant operation. Each panel has a maximum of 96 LEDs indicating faults and/or alarms on detectors or in the hotel's 14 detector zones. A 1000 Series remote operating panel is located in the reception area to allow front desk personnel to monitor the status of the fire alarm system. In addition to the status of the fire alarm system, the panels indicate the status of the water extinguishing system, including butterfly valves, flow switches, wet alarm valves and pumps.

Zone-specific sounders and loudspeaker announcement facilities are provided in the event of alarm verification as indicated on the control panels.

The fire detection system in the Kempinski Hotel The Dome is an excellent example of a modern, comprehensive and efficient fire surveillance and control installation. Guests and staff can feel safe in this environment protected from fire hazard by a 'luxury' solution deserving of an extravagant hotel. The system was installed by Bosch's Turkish distributor for fire systems Saglam Yangin Güvenlik Ltd. Bosch has delivered similar fire detection and alarm systems to hotels in other major hotel chains throughout the world.

See www.boschsecurity.com for further information

Contact person for press enquiries:
Bosch Security Systems
Erika Görge
Postfach 12 70
85504 Ottobrunn
Germany
Phone: +49 89 6290-1647
Fax: +49 89 6290-1193
E-mail: erika.goerge@de.bosch.com

The Bosch Group is a leading global manufacturer of automotive and industrial technology, consumer goods, and building technology. In fiscal 2005, some 251,000 associates generated sales of 41.5 billion euros. Set up in Stuttgart in 1886 by Robert Bosch (1861-1942) as "Workshop for Precision Mechanics and Electrical Engineering," the Bosch Group today comprises a manufacturing, sales, and after-sales service network of more than 280 subsidiaries and some 13,000 Bosch service centers in over 140 countries.

The special ownership structure of the Bosch Group guarantees its financial independence and entrepreneurial freedom. It makes it possible for the company to undertake significant up-front investments in the safeguarding of its future, as well as to do justice to its social responsibility in a manner reflective of the spirit and will of its founder. A total of 92% of the share capital of Robert Bosch GmbH is held by the charitable foundation Robert Bosch Stiftung. The entrepreneurial ownership functions are carried out by Robert Bosch Industrietreuhand KG.

Additional information can be accessed at www.bosch.com.

More from Electrical Equipment & Systems