Luminaires designed for multiple uses.
Press Release Summary: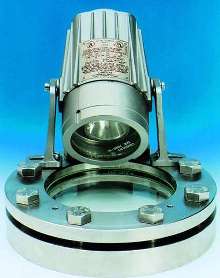 Approved for wet conditions per UL 1571, USL-08 Ex luminaire provides illumination for interiors of tanks, vessels, mixers, pipelines, and visual flow indicators. Ex rating is UL 844 T3B and T4A. Corrosion resistant, die-cast aluminum bodies and brackets are equipped with halogen lamps rated 35 or 50 W, spot or flood, or 100 W flood. Units are readily applied to bolt-on circular flanges, circular weld-pads, and circular threaded assemblies larger than 4 in.
---
Original Press Release:
Multi-purpose Glare-Free Luminaire is Ex-Rated

Designed to provide illumination for interiors of tanks, vessels, mixers, pipelines and visual flow indicators, the powerful USL-08 Ex luminaire from L.J. Star combines safety and versatility. Ex rating is UL 844 T3B and T4A and units are available equipped with lamps rated 35 or 50 W, spot or flood, or 100 W flood.

The units are also approved for wet conditions per UL 1571. They are readily applied to bolt-on circular flanges, circular weld-pads, visual flow indicators in both full-view and viewthru configurations and circular (sanitary) threaded assemblies larger than 4-inches.

In addition to their application as sight-glass and visual flow indicator illumination, USL-08 Ex luminaires are also well suited to specific area lighting, such as instruments, control panels, valve manifolds and walkways, wherever spot or floodlight illumination is required. Each comes equipped with a sturdy hinged mounting bracket that allows the light to be adjusted for optimum illumination and convenience. 100 W power temperature class is T3B.

USL-08 Ex luminaire bodies and brackets are formed of corrosion resistant die-cast aluminum, G-Al SI 10 Mg. Lamps are readily available halogen types with built-in reflectors.

For additional information, contact L.J. Star Incorporated, P.O. Box 1116, Twinsburg, OH 44087. Phone: 330-405-3040. Fax: 330-405-3070. Email: [email protected]. Web site: www.ljstar.com