Lubricating Grease is suited for production processes.
Press Release Summary: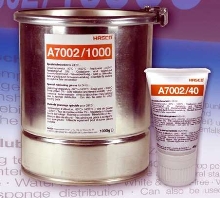 Supplied in 40 g, 1 kg tin, and 10 kg bucket, A 7002/... provides conservative lubrication to help extend service life of Z 412 plasmanitrided ejector pins as well as all moving parts. Drip point is over 175°C, and mold temperature processing is 1,400°C. Grease should be applied thinly to moving surface.
---
Original Press Release:

HASCO - Special Lubricating Grease A 7002/...


Tried-and-tested lubricant for trouble-free production processes

The new special lubricating grease A 7002/... is recommended for reliable, conservative lubrication of the plasmanitrided ejector pins Z 412/.... The additional lubrication further prolongs the service life of the ejectors.

Mould components, like cores and cavities are protected against premature wearing by tempering and various surface coating methods.

All moving components on the other hand which ensure the functioning of the mould should be maintained and repaired regularly to withstand maximum stress. Guides, ejectors, slides, latch and core pulls are only guaranteed to work perfectly when the right lubricants are used at the right time.

A 7002/... is also excellently suited for reliable, conservative lubrication of all moving parts. The drip point of the grease is > 175°C - the mould temperature processing is at 1400°C. It is these solid parts which guarantee the actual "lubrication". They act as micro-ball bearings even under extreme temperature stress. A prerequisite for less repairs and long service lives.

In addition to the handy 40 g tube, this special grease which should be applied thinly to the moving surface, is now available an a 1 kg tin and a 10 kg bucket. More detailed information and safety data sheets can be found in the Internet under www.hasco.com.

More from Fluid & Gas Flow Equipment