LSR Molding Service can be applied to thermoplastic parts.
Press Release Summary: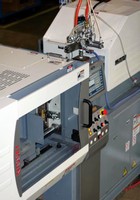 Liquid silicone rubber (LSR) used in molding service molecularly bonds with thermoplastic substrate parts. To eliminate handling and assembly of individual rubber and plastic components, tooling and overmolding techniques allow consolidation of silicone rubber and plastic into single composite part. Utilizing LSR's heat and chemical resistance, memory, and biological inertness in form of molecular-bondable material lets designers develop components that meet performance requirements.
---
Original Press Release:

Rogan Corporation Announces New Bondable Liquid Silicone Molding Service



NORTHBROOK, IL, JUNE 5, 2007: Rogan is on the forefront of molding with a new generation of liquid silicone rubber (LSR) that can form a molecular bond with thermoplastic substrate parts. The unique tooling and overmolding techniques allow Rogan to consolidate silicone rubber and plastic into a single composite part, thereby eliminating the need to handle and assemble individual rubber and plastic components.

Utilizing LSR's heat and chemical resistance, memory, and biological inertness in the form of a molecular bondable material allows designers to develop integrated and highly reliable components that will meet demanding performance and cost requirements. Let our engineers introduce you to this new technology so you can take advantage of product design capabilities never before possible.

Overmolding Design Opportunities Include:
1.High performance integral seals and gaskets for waterproofing complex geometries and electronic interconnects 2.Integral membranes, diaphragms and valves 3.Integral shock and vibration protection and sound dampening

More from Machinery & Machining Tools