LS 13 320 XR Particle Analyzer Uses Polarization Intensity Differential Scattering Technology
Press Release Summary: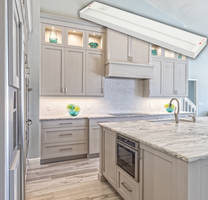 LS 13 320 XR Laser Diffraction Particle Analyzer measures particle size ranging from 10 nm to 3,000 µm. The PIDS technology allows the analyze materials at material at multiple wavelengths and polarities. Unit is suitable for applications ranging from food and beverage to biopharma applications and can detect multiple peaks in a heterogeneous sample. This analyzer features 127 laser diffraction detectors, streamlined software and an intuitive interface.
---
Original Press Release:
Next-Generation Laser Diffraction Particle Analyzer Can Improve Material Analysis: LS 13 320 XR Delivers Fast, Accurate and Reproducible Particle Analysis Data
INDIANAPOLIS, USA − (Thursday March 29, 2017) − Beckman Coulter Life Sciences has launched the next-generation laser diffraction particle analyzer, the LS 13 320 XR − to meet the exacting demands of quality control and research applications in pharmaceutical and industrial sectors.
The LS 13 320 XR delivers fast, accurate and reproducible high-resolution measurement and analysis, eliminating complex procedure setups and reducing the time required to process liquid or dry samples.
It uses polarization intensity differential scattering (PIDS) technology to analyze material at multiple wavelengths and polarities to deliver a highly accurate picture of the sample material. It can detect multiple peaks within a heterogeneous sample, and measure the widest possible range of particle sizes, from 10 nm to 3,000 µm.
The LS 13 320 XR is suitable for diverse environments, from food and beverage quality control and industrial manufacturing to small molecule and biopharma applications. Joe Dabbs, Marketing Manager for Particle Characterization, Beckman Coulter Life Sciences, explained: "Whatever the environment, the LS 13 320 XR offers customers flexible, robust performance, providing greater confidence in the accuracy and reproducibility of results and the day-to-day consistency of the final product.
"This new instrument ensures that critical quality control standards are met, and sets new performance standards for laser diffraction analysis of particle contamination, at the same time delivering a more efficient, faster workflow."
The LS 13 320 XR incorporates 127 laser diffraction detectors for analysis of particles larger than 0.4 µm, and an additional six for smaller particle analysis. A high number of detectors enable resolution of subtle size differences. With streamlined software and an intuitive interface, the LS 13 320 XR delivers fast and accessible data analysis.
About Beckman Coulter Life Sciences
Beckman Coulter Life Sciences is dedicated to improving the health of people around the world. The company's global leadership and world-class service and support delivers sophisticated instrument systems, reagents and services to life science researchers in academic and commercial laboratories, enabling new discoveries in biology-based research and development. A leader in centrifugation and flow cytometry, Beckman Coulter has long been an innovator in life sciences instruments and solutions used at the forefront of important areas of investigation, including genomics and proteomics. For more information, visit www.beckman.com/home. Follow Beckman Coulter Life Sciences on Twitter @BCILifeSciences; LinkedIn and https://www.facebook.com/BCILifeSciences.
More from Electronic Components & Devices