LP Series ITF Filters feature lead-free nickel/solder coated terminations.
Press Release Summary: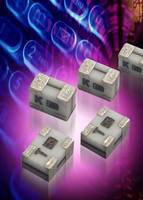 LP Series ITF Filters are offered in 700 MHz, 860 MHz, 3.2 GHz, 3.5 GHz, 3.6 GHz, and 3.8 GHz standard frequencies in 3.08 L x 1.6 W x 0.87 mm H chip size. Unit is suitable for military, mobile communications systems, WLANs, GPS and satellite television receivers and a offer characteristic impedance of 50 Ω. Product is compatible with soldering technologies such as reflow, wave soldering and vapor phase. Filters provide -40°C to +85°C operating and storage temperature range.
---
Original Press Release:
AVX Extends its Portfolio of High-Performance, Low-Pass Integrated Thin Film Filters With Six New 8W, 1206 Chip-Size Solutions Spanning 700MHz to 3.8GHz
The new low-profile 1206 LP Series filters deliver excellent high-frequency performance with low insertion loss & extremely sharp attenuation in a wide range of high-frequency wireless applications
AVX Corporation, a leading manufacturer and supplier of passive components, interconnects, sensors, and control solutions, has extended its portfolio of high-performance, low-pass integrated thin film (ITF) filters with the release of six new 8W LP Series filters in miniature 1206 chip sizes with low maximum height profiles of 0.97mm. Based on proven thin film multilayer technology, the new SMD filters deliver excellent high-frequency performance with low insertion loss and extremely sharp attenuation in wireless applications with frequencies spanning 700MHz to 3.8GHz, including: military and mobile communications systems, wireless large area networks (LANs), global positioning systems, vehicle location systems, and satellite television receivers. The new 8W LP Series ITF SMD filters also feature a rugged construction designed for reliable automatic assembly, allow installers to visually inspect the solder fillet after mounting, and provide a higher-power complement to AVX's existing 3W LGA-terminated 1206 LP Series offering.
"Our new 8W, high-performance, low-pass ITF filters provide RF design engineers with peak performance and top quality in a miniature 1206 chip size with a low, submillimeter height profile especially designed for use on the smaller and more crowded PCBs used to enable next-generation wireless electronics," said Larry Eisenberger, principal technical marketing engineer at AVX.
Measuring just 3.08mm (±0.1mm) x 1.6mm (±0.1mm) x 0.87mm (±0.1mm) (L x W x H), the new 1206 LP Series ITF filters are rated for 8W continuous power and operating and storage temperatures spanning -40°C to +85°C, and are currently available in six standard frequencies: 700MHz, 860MHz, 3.2GHz, 3.5GHz, 3.6GHz, and 3.8GHz, with intermediate frequencies within the 700MHz to 3.8GHz range available upon request. The series exhibits characteristic impedance of 50Ω, features lead-free nickel/solder (Sn100) coated terminations for RoHS compliance, and is compatible with automatic soldering technologies, including: reflow, wave soldering, vapor phase, and manual. LP Series filters are 100% tested for electrical parameters and both visual and mechanical characteristics, and are shipped on tape and reel in standard quantities of 100, 500, 1,000 and 2,000 pieces. Lead-time for the series is currently 10 weeks.
For more information about AVX's new 8W, 1206 chip-size LP Series high-performance, low-pass ITF SMD filters for high-frequency wireless applications spanning 700MHz to 3.8GHz, please visit http://www.avx.com/LP1206-SMD-Filter to access the product datasheet and AVX's RF Microwave/Thin Film Products catalog and to request a sample. For more information about AVX's complementary LP Series filter offering, please visit http://www.avx.com/products/rfmicrowave/filters/thin-film-low-pass-filters/lp-series/. For all other inquiries, please visit www.avx.com, email inquiry@avx.com.
About AVX
AVX Corporation is a leading international manufacturer and supplier of electronic passive components, interconnect, sensing, and control solutions with 26 manufacturing and warehouse facilities in 14 countries around the world. AVX offers a broad range of devices including capacitors, resistors, filters, sensors, controls, circuit protection devices, and connectors. The company is publicly traded on the New York Stock Exchange (NYSE:AVX).
More from Laboratory and Research Supplies and Equipment